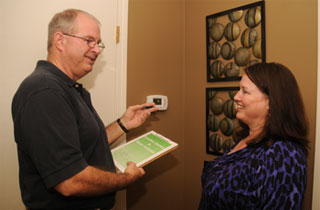 Air Conditioning thermostat cost-cutting strategies likely remain top of mind even as the summer winds down, because we've come to know all too well how brutal the Arkansas heat can be. But while most people are familiar with common ways to save on energy bills, you may not realize there are even more advantages of installing a programmable thermostat.
At DASH Heating & Cooling®, even though we may be most well-known for our prompt service, we also are very thorough in our analysis of your home's specific needs. The same applies when it comes to making sure our customers receive the ultimate comfort from our services.
1 That is one reason we highly recommend installing a new programmable thermostat. We have found this type of upgrade to be an excellent and affordable way to make sure your home consumes energy in the most efficient manner possible.
2 An automatic setback adjusts your temperature setting for you, so forgetting to do it manually is no longer an issue. If scheduled to maintain the highest or lowest possible temperatures for four to five hours each day (rather than 24 hours a day), programmable thermostats pay for themselves!
3 Members of the DASH service team are experts at helping you understand each type of thermostat available so you can make best choice for your home. There are six basic types of automatic and programmable thermostats: electromechanical, hybrid, occupancy, light sensing, digital thermostats and Wi-Fi digital thermostats.
4 We like Wi-Fi digital thermostats because they are available with most extensive range of features and flexibility. And most heating and cooling systems are compatible with them. In addition, they offer precise temperature control and custom scheduling.
5 Click here for more information about our programmable thermostat services, including a comprehensive guide to choosing the appropriate type for your home.
If you'd like to improve your A/C thermostat's efficiency – and start saving today – why not depend on an expert company with 75 years in the business? Call us today at 501-224-DASH (3274), or contact us here for more information.