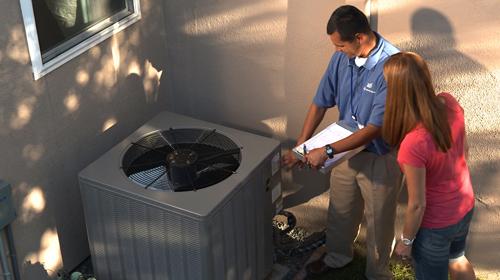 One of the more costly investments you'll make in your home, other than the home itself, is in the HVAC system that keeps you warm in winter and cool in summer. The average system is designed to last 12 to 15 years, and at DASH Heating & Cooling, we want to help you get the most you can out of your system.
Here are four tips that can help you get the most out of your system, keep it running smoothly, and perhaps add years to its service life:
1. Pre-season check-ups: Getting your system cleaned and checked out twice a year, once in the spring (for cooling systems) and once in the fall (for heating systems) will catch small problems before the season starts so they can be addressed before they become big problems.

2. Check air filters: Clogged or dirty air filters restrict air flow to your system, which makes it work harder to do the same job. Check filters regularly, change when needed, and your HVAC system will breathe easier.

3. Inspect your equipment: Annual inspections by a trained technician should be scheduled to perform regular maintenance tasks. As a homeowner, you can do a periodic walk-a-round looking for buildup of leaves or debris on outdoor units, and oily patches near central heat and air units that could indicate a refrigerant leak. Should you find a problem; a call to DASH Heating & Cooling will have a trained technician on the way to check it out.

4. Give your system a break: If, like in many homes, your system runs 24/7 for prolonged periods, a programmable thermostat can help with settings higher or lower than normal but that allow the system to return to your comfort level with less work. These small breaks help make a big difference over the life of your unit.

We can't predict or guarantee the life of an HVAC system, but following these tips will help you keep your system running smoother to get the most out of your investment. Call DASH Heating and Cooling at 501-224-3274 or contact us online for all of your heating and cooling needs. And, for even more savings and peace of mind, join The Club!

And remember, at DASH Heating & Cooling, "We're There When We Say, or You Don't Pay!™"