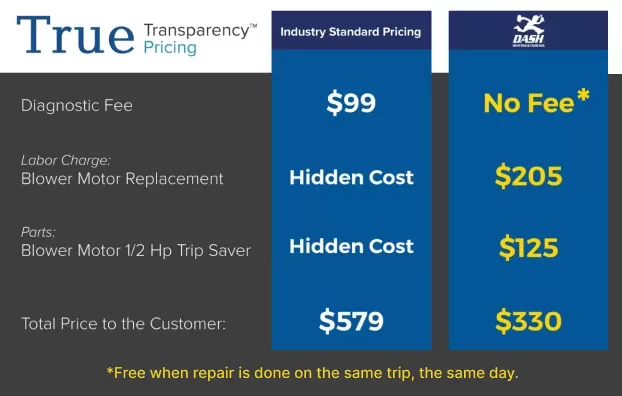 Most Home Service Companies Use the Same Pricing Structure.
But Not Us.
Heating & Air Price Comparison
At DASH HEATING & COOLING®, we know that you work hard for your money, and deserve to know exactly what you're paying for when you hire us to take care of your heating and cooling needs.
Most heating and air companies use industry-standard pricing, but DASH HEATING & COOLING® is different – that's why we offer DASH True Transparency Pricing. This new pricing structure provides you visibility into our costs of doing business, so you can continue to trust what you get from DASH.
*Pricing is actual representation of parts and labor, but may vary depending on current market values and specific systems. Evaluation fee is waived when services are performed on the same day. Contact DASH for complete details.
You Pay What We Pay -
No Matter What!
As our customer, we want to prove to you that we care, so we've rolled out all new low prices with no hidden charges or fees. Plus, no commission – you have a right to know what you are paying for. With this pricing, you'll only have to pay the fair market value for parts and our expert service!
So, what do you get with DASH's True Transparency Pricing?
Standard repair or minor install tasks*
$205 + cost of parts and materials
Itemized lists of tasks performed and materials and supplies used during service.
Major Heating & Cooling Repair or Installation Tasks*
$599 + cost of parts and materials
Itemized list of tasks performed and materials and supplies used during service.
*Includes "We're There When You Say or You Don't Pay!" Guarantee and 100% Satisfaction Guarantee.
85% of All Repairs to be Performed at $205* Plus Parts!
85% of all repairs to be performed are at $205*, on average with True Transparency Pricing. Plus parts for $99* if we are already at your home! Any additional standard repair beyond this will only be $99* plus the cost of parts.
You are probably thinking we are going to mark up the cost of parts 5-10 times. The cost of the parts will be, on average, what you can purchase from a licensed parts supplier.
FREE Evaluation With Service
If you use DASH for the repair while we're there, we'll waive the $78 service fee so you get a free evaluation with your service!
DASH Comfort Club Membership
Join our Club Membership and receive annual preventative maintenance on your heating and cooling systems, and receive a 15% discount on any service and repairs, no overtime charges, plus more.
Sign up for a DASH Comfort Club Membership today!
Priceless Peace Of Mind,
$15.95 A Month
Join the Dash Comfort Club and get all the perks of
membership:
Seasonal tune-ups.
Priority Scheduling.
100% satisfaction guaranteed.
Learn more
Select Nearest location
CLOSE