Our Promotions
FAQs About AC Services In Little Rock
What are the signs that I need an air conditioner replacement?
If your AC unit is over ten years old, it could be nearing the end of its lifespan. Frequent repairs, rising energy bills, inconsistent cooling, or unusual noises are all indicators that your AC might need a replacement, either for a more modern central system, or an energy-efficient ductless solution.
A residential or commercial AC unit that uses R-22 Freon, which is being phased out, is also a prime candidate for replacement. Lastly, if your home still feels humid despite the AC running, it's a sign your air conditioning system may not be functioning optimally and you should look for certified AC installation companies for help.
How does the process of AC installation work at Dash?
At Dash, the process of an AC unit installation begins with an assessment of your home's specific needs, considering factors such as size, layout, and location in Little Rock. Our expert AC contractors' focus is on providing the best air conditioning system installation for your comfort and efficiency.
As one of the top AC installation companies in the area, we handle a wide range of solutions, from central to ductless AC, ensuring the right fit for your space. Once the optimal system is chosen, the installation process includes careful placement, secure fastening, precise connections, and thorough testing. The standard for an air conditioning installation estimate in Little Rock may vary depending on the type of installation that you're getting.
How often should a central air conditioner be replaced?
A central air conditioner's lifespan depends on various factors, including usage, maintenance, and local climate. Generally, a well-maintained residential or commercial central air conditioner should last between 10 to 15 years.
However, in regions like Little Rock with hot, humid summers, air conditioners work harder, which can shorten their lifespan. Replacing an old, inefficient system with a modern central or ductless AC installation can improve your home's comfort and potentially reduce your energy costs.
What are the benefits of professional air conditioning system installation over a DIY approach?
Choosing a professional air conditioning system installation over a DIY approach has several benefits. In a city like Little Rock, where the climate can be demanding, proper installation by certified AC contractors is critical for system efficiency and longevity. A professional central or ductless AC installation ensures your system is correctly sized for your home, securely mounted, and safely connected.
This precision can prevent future problems, enhance system performance, ensure your safety and save you from costly repairs or early replacement. Furthermore, AC installation companies like Dash provide transparent pricing, avoiding unexpected costs.
What factors should I consider when choosing between fixing and replacing my air conditioning?
When deciding between air conditioning replacement or fix, several factors come into play. The age of your system is crucial; if it's more than 10 years old, replacement might be more cost-effective, especially in demanding climates like Little Rock. Examine the frequency and cost of repairs.
If your residential or commercial AC requires frequent fixes or the cost of them is over half the cost of a new central or ductless system, replacement could be the better option. Also, consider your current air conditioner unit's efficiency. Older AC units often consume more energy, so a new air conditioning installation could lead to significant savings on your energy bills.
No Credit Check Financing Option
No interest & no payments
for 60 months
Learn more
Priceless Peace Of Mind,
$15.95 A Month
Join the Dash Comfort Club and get all the perks of
membership:
Seasonal tune-ups.
Priority Scheduling.
100% satisfaction guaranteed.
Learn more
We're Your Local Home Service Experts
It's All Guaranteed
The Best Techs. The Friendliest Service.
For over 90 years, DASH has focused on customer satisfaction and exceptional service. We will do our best to continue with tradition to keep your best interest, and as always, we'll expect nothing short of 100% satisfaction, guaranteed.
Learn more about Us
Fast Response
Your calls are greeted by our in-house staff, who will schedule you for immediate service. Same-day service available for most emergencies so you never have to wait to get your problem under control.
Schedule Now
True Transparency Pricing
Most heating and air companies use industry-standard pricing, but DASH HEATING & COOLING® is different – that's why we offer DASH True Transparency Pricing. This new pricing structure provides you visibility into our costs of doing business, so you can continue to trust what you get from DASH.
Read more
Our Guarantees

All Techs Are Drug Tested & Undergo Background Checks

Our friendly team consists of highly-trained and respectful professionals, ensuring your home's safety and delivering exceptional service.

Pristine
Property Protection

We protect your home by wearing floor savers, using floor runners, and cleaning our work area.

NATE & EPA
Certification

Every DASH technician is up-to-date on their certifications. By doing so, they remain current with the safest and most effective industry practices.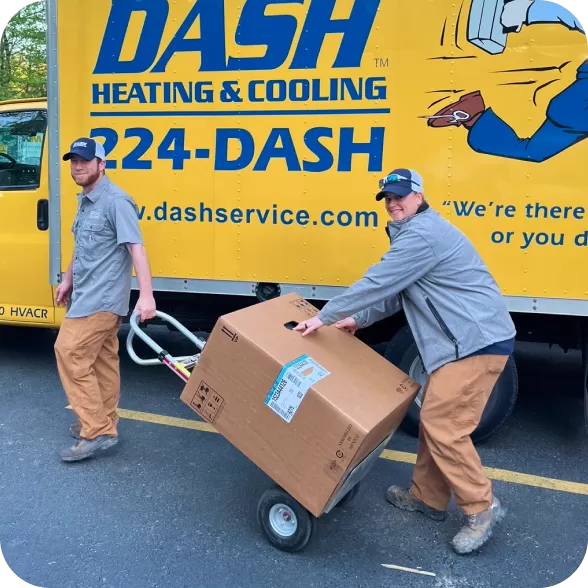 Why Choose Dash For Your AC Installation And Replacement?
At Dash, we understand the importance of professional AC installation and replacement, especially here in Little Rock.
Our commitment to you goes beyond just providing a service. We respect your time, promising punctuality with our service calls. If we don't meet our promised time frame, you don't pay for the service call fee!
We also believe in leaving your space as clean as we found it; our contractors will handle all cleanups after central or ductless AC installation or replacement. And with our True Transparency Pricing, you'll never encounter hidden fees. As one of the leading AC companies in Arkansas, we aim to provide a smooth, professional service experience. Let us show you why Dash should be your first choice.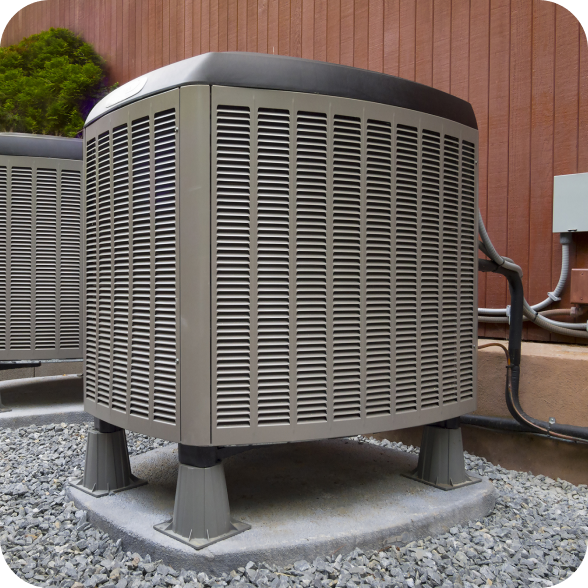 Our Expertise In A Wide Range Of AC Installations
At Dash, we pride ourselves on our broad expertise in various residential and commercial solutions. Whether you're looking for a central AC installation, a ductless AC system, or a simple AC unit installation, we've got you covered. Our experience extends to all facets of air conditioner installation, ensuring your home or business in Little Rock receives the most efficient and reliable cooling solution.
As a leading AC installation contractor, we hold ourselves to the highest standards, setting us apart from other AC installation companies. When it's time for an air conditioning replacement, you can trust Dash's comprehensive knowledge and commitment to excellence.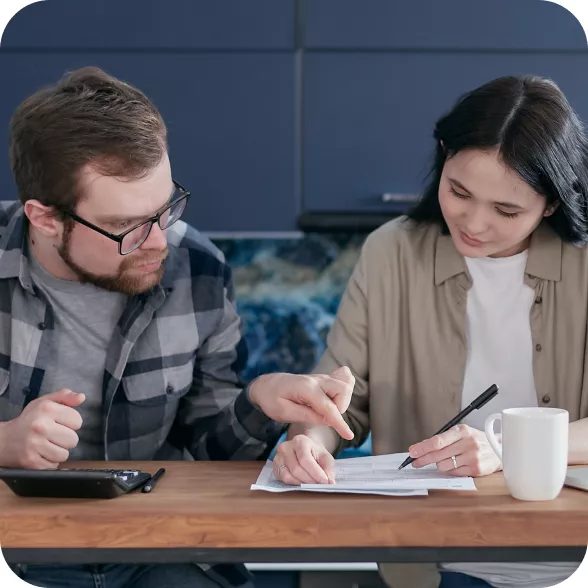 Understanding Our True Transparency Pricing
Our True Transparency Pricing policy ensures that you have a clear understanding of the costs involved and the value you receive.
For instance, when addressing standard repair or minor installation tasks, our pricing starts at $205 plus the cost of parts and materials. We provide itemized lists of tasks performed and the materials used during the service, ensuring transparency in every aspect of the process. In the case of major heating and cooling repair or installation tasks, our pricing starts at $599 plus the cost of parts and materials.
Furthermore, we offer a free evaluation with service. If you choose Dash for the repair while we're there, we waive the $78 service fee, providing you with a complimentary evaluation.
At Dash, we prioritize customer satisfaction, and that's why we offer our "We're There When You Say or You Don't Pay!" Guarantee and a 100% Satisfaction Guarantee.
Why It's Time For Your Air Conditioner Replacement
Air conditioner replacement is something many home or business owners in Little Rock may face. The need for frequent repairs, a system that's constantly running but not cooling efficiently, or an AC unit that's more than 10 years old are indicators that it might be time for an upgrade to a more modern central or ductless air conditioner.
Excessive dust or humidity, as well as unusual smells or sounds from your unit, also signal a potential need for an air conditioning replacement.
At Dash, we bring extensive experience in residential and commercial AC installations and replacements, with a commitment to customer satisfaction that ensures a seamless transition to a new, efficient air conditioning system.
Trusted Residential Air Conditioning Installation In Little Rock And Beyond
Dash is your trusted provider of residential air conditioning installation services in Little Rock and beyond. With our specialized expertise, we bring comfort to homes throughout the community. Our extensive knowledge allows us to tailor each project to meet your specific residential cooling needs.
We excel in replacing aging equipment with modern and efficient systems, ensuring optimal performance and energy efficiency. As expert contractors in domestic air conditioning installation, we take pride in delivering cool comfort to homes in our community.
In addition to installation services, Dash also offers reliable repairs for homes in Little Rock, particularly those with older AC systems. We know the unique challenges that arise from outdated equipment and are skilled at resolving issues and fixing the mess left behind by previous companies.
Trust Dash for all your residential air conditioning needs in Little Rock. Whether you require installation, replacement, or repairs, our dedicated team is committed to providing you with dependable and efficient solutions.
Services Available In Little Rock, AR Area
Customer Reviews
We now will always call and refer you to others when we need heating or air conditioning service. I'm sorry we had air conditioning trouble but glad to say we found your business due to that misfortune. We now will always call and refer you to others when we need heating or air conditioning service. Thanks so much for the great people.
Thelma Tucker
Our experience with DASH has been exceptional. Their technicians are always professional and courteous. Our experience with DASH has been exceptional. Their technicians are always professional and courteous. DASH has been servicing our home for more than ten years, with both new equipment and seasonal maintenance. We continue to enjoy a comfortable home.
Traci
I now appreciate the value of having the club membership. I am pleased with how quickly you responded to and repaired our air conditioning unit. I now appreciate the value of having the club membership.
Bruce Wilson
Our service areas
DASH Proudly provides service to Central Arkansas, Hot Springs, And Surrounding Areas homeowners. With a century of experience, you can count on our knowledge and expertise to get the job done right!
Other Cities We Serve
Arkadelphia, AR
Benton, AR
Cabot, AR
Haskell, AR
Hot Springs Village, AR
Mayflower, AR
Roland, AR
Scott, AR
Sherwood, AR
North Little Rock, AR