Our Promotions
FAQs: Furnace Repair Services In Little Rock, Arkansas
What Are the Most Common Furnace Issues?
Your furnace is an essential component of your home. Small issues can turn into larger and more expensive problems later on if they are not fixed, so it's important to be aware of the most common reasons you'll need a furnace repair.
In Little Rock, look for these issues:
Dirty Ductwork: This is one of the most common furnace issues. Check your airflow by holding a hand in front of your vents. If you don't feel much air, have a service company clean your ductwork.
Yellow or Orange Pilot Light: For gas furnaces, a well-functioning pilot light burns blue. If it is yellow or orange, the gas isn't burning correctly. This can also indicate a Carbon Monoxide leak. Call us immediately for an emergency repair!
Increase in utility bills: If you notice an increase in your utility bill, without a noticeable increase in usage, it could be a sign that you have an issue with your furnace.
For furnace repair services in Little Rock, trust the experts at DASH Heating and Cooling!
How Often Should I Have My Furnace Serviced?
At a minimum, furnaces should get serviced yearly, especially gas furnaces, which are the most widely used.
At Dash, we suggest getting furnaces serviced in both the spring and the fall. We'll examine your HVAC system for potential issues, clean and lubricate all moving parts, and clean and replace filters.
We also check thermostats and indoor quality to ensure that your home is free of pollutants, your furnace is energy-efficient, and your family will stay warm and comfortable all winter long. For maintenance and furnace service in Little Rock, the DASH team is here for you.
How Do I Know if the Problem With My Furnace is an Emergency?
If your furnace or HVAC is not turning on, you most likely need an emergency repair.
In Little Rock, there are many reasons that your furnace may not be functioning properly, some more serious than others. Aside from a total breakdown, if you smell gas or notice leaks, you should call for an emergency repair. Leaks and carbon monoxide release should be taken seriously as they pose serious risks to the health and safety of your family.
Our heating and air technicians are available 24 hours for emergency furnace service. In Little Rock, call DASH!
My Furnace is 20 Years Old. Is it Still Worth Repairing?
The age of your furnace is just one little thing to keep in mind when deciding whether to fix or replace it. There are a few other factors that might come into play, like how efficient it still is, the shape it's in, what the repair costs might be, and how often you've been needing repairs.
Generally speaking, if your unit is over 15 years old and needs frequent furnace repairs, it might be better to replace it. But, if it's still running strong and is energy-efficient, even though it's 20 years old, it might be worth repairing.
The best thing you can do is to have a professional heating and cooling specialist look at your furnace and give you expert advice on what's best for you.
What Are the Differences Between Gas, Oil, and Electric Furnaces?
There are three types of furnaces - gas, electric, and oil. Let's take a look at what sets them apart:
Fuel source: Gas furnaces use natural gas, electric furnaces use electricity, and oil furnaces use, you guessed it, heating oil.
Efficiency: Gas furnaces tend to be the most efficient, followed by oil and then electric furnaces.
Cost: Gas furnaces can be a bit more budget-friendly to operate, compared to electric furnaces, but it all depends on the cost of natural gas and electricity in your area. Oil furnaces typically cost the most to run.
Maintenance: Oil furnaces usually need a little more TLC, and gas and electric furnaces are usually easier to keep up with.
Availability: Depending on where you live, some fuel sources might be easier to come by than others. For example, natural gas might not be available in some rural areas, while heating oil might be harder to find in some urban areas.
If you're considering a new furnace, it's important to think about the initial cost of the unit, installation costs, and your home's size and heating needs.
If you have questions about furnace service in Little Rock, one of our professional heating and cooling specialists can give you expert advice and help you choose the best option for your home.
No Credit Check Financing Option
No interest & no payments
for 60 months
Learn more
Priceless Peace Of Mind,
$15.95 A Month
Join the Dash Comfort Club and get all the perks of
membership:
Seasonal tune-ups.
Priority Scheduling.
100% satisfaction guaranteed.
Learn more
We're Your Local Home Service Experts

It's All Guaranteed
The Best Techs. The Friendliest Service.
For over 90 years, DASH has focused on customer satisfaction and exceptional service. We will do our best to continue with tradition to keep your best interest, and as always, we'll expect nothing short of 100% satisfaction, guaranteed.
Learn more about Us

Fast Response
Your calls are greeted by our in-house staff, who will schedule you for immediate service. Same-day service available for most emergencies so you never have to wait to get your problem under control.
Schedule Now

True Transparency Pricing
Most heating and air companies use industry-standard pricing, but DASH HEATING & COOLING® is different – that's why we offer DASH True Transparency Pricing. This new pricing structure provides you visibility into our costs of doing business, so you can continue to trust what you get from DASH.
Read more
Our Guarantees

All Techs Are Drug Tested & Undergo Background Checks

Our friendly team consists of highly-trained and respectful professionals, ensuring your home's safety and delivering exceptional service.

Pristine
Property Protection

We protect your home by wearing floor savers, using floor runners, and cleaning our work area.

NATE & EPA
Certification

Every DASH technician is up-to-date on their certifications. By doing so, they remain current with the safest and most effective industry practices.
What To Expect With DASH: Quality Furnace Service In Little Rock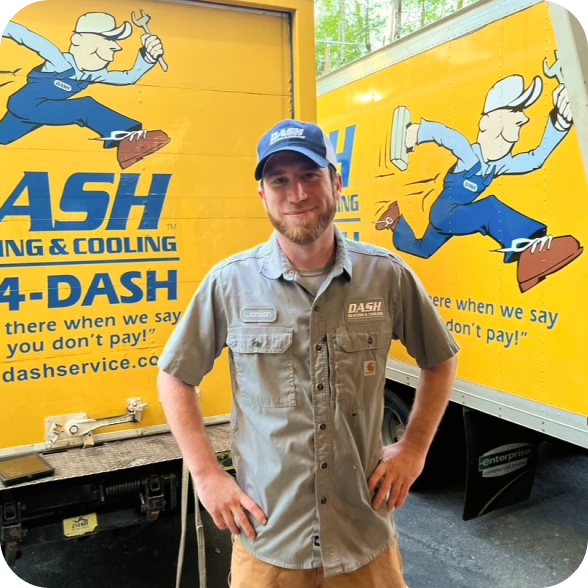 Your Local Family Furnace Service Company In Little Rock, AR
We're here for you 24 hours a day for furnace repair and all home heating and cooling needs. We're located in Little Rock and have been proudly serving the community for over 90 years.
When we visit your home for furnace service in Little Rock, we'll treat you like family! We'll listen to your concerns, do a detailed inspection and then review options and costs before proceeding with a repair. We have a True Transparency Pricing policy, so you never have to worry about hidden costs or fees!
Big messes don't scare us! Believe it or not, one of our favorite things is to clean up other companies' mistakes. Our work is backed with a 100% satisfaction guarantee, so whether you call us for an emergency repair, or need us to undo the work of someone else, you can be confident that you'll be happy, warm, and comfortable with DASH.
We're the furnace service company in Little Rock that you can trust. If you need a furnace repair, call us today!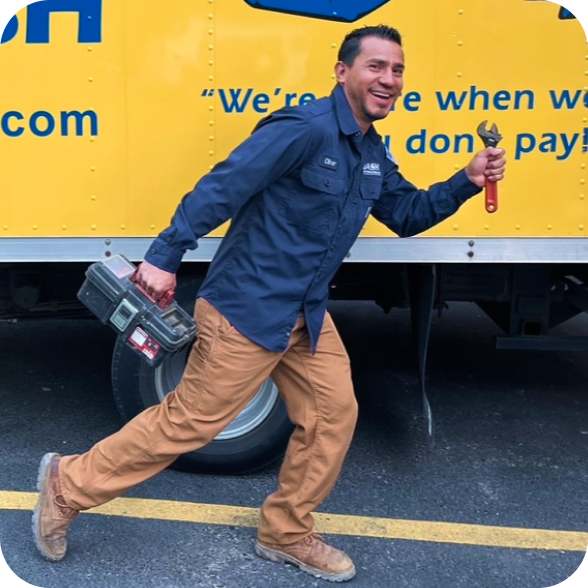 24/7 Emergency Furnace Service
We understand the overwhelming stress of having to deal with a broken HVAC system, especially on a cold, winter Arkansas night.
With 24-hour emergency services for your heating and cooling systems, you can count on Dash. With our there when we say or you don't pay™ policy, you'll know exactly when you can expect us.
If your furnace breaks down or you suspect a potential issue, call one of our certified technicians for furnace repair in Little Rock - we'll be there in a DASH!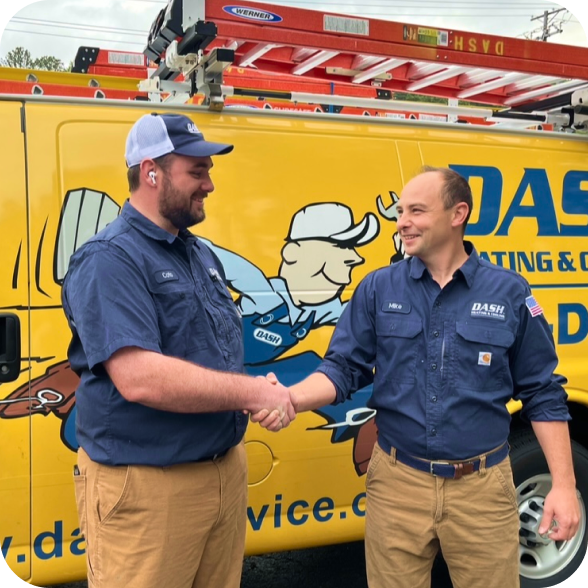 Maintaining & Repairing Furnaces In Little Rock
We'll handle all of your heating and air issues in Little Rock, AR.
By maintaining your furnace, you can ensure that it will live a long life, run efficiently, and avoid unexpected repairs. When we service your furnace, we'll check the thermostat to make sure it's functioning correctly, replace or clean the filter, lubricate the blower motor, and check for damage or leaks.
If there is an issue, or if you call us for emergency repair, we'll do a full inspection, including air quality checks - no stone goes unturned with DASH! Our HVAC system technicians are highly trained and understand the complexities of all heating systems for homes.
In the Greater Little Rock area, trust the 91+ years of experience under our belt, and call us for your furnace repair today!
Save On Your Furnace Repair With Discounts And Promotions By DASH
In addition to the variety of coupons and deals we offer throughout the year, DASH Heating & Cooling provides exclusive deals and promotions to our loyal club members.
You'll get discounts on furnace repairs in Little Rock, heating and air conditioning maintenance, duct cleaning services, and indoor air quality products. Overtime fees are waived, and you'll receive priority emergency service. Our True Transparency Pricing also means that you'll pay what we pay - no commissions or markups, we'll always pass our savings on to you!
Since 1931, we've been committed to affordable, quality work. We'll always do our best to deliver comfort and value, and look forward to assisting you with your furnace repair needs.
Customer Reviews
We now will always call and refer you to others when we need heating or air conditioning service. I'm sorry we had air conditioning trouble but glad to say we found your business due to that misfortune. We now will always call and refer you to others when we need heating or air conditioning service. Thanks so much for the great people.
Thelma Tucker
Our experience with DASH has been exceptional. Their technicians are always professional and courteous. Our experience with DASH has been exceptional. Their technicians are always professional and courteous. DASH has been servicing our home for more than ten years, with both new equipment and seasonal maintenance. We continue to enjoy a comfortable home.
Traci
I now appreciate the value of having the club membership. I am pleased with how quickly you responded to and repaired our air conditioning unit. I now appreciate the value of having the club membership.
Bruce Wilson
Our service areas
DASH Proudly provides service to Central Arkansas, Hot Springs, And Surrounding Areas homeowners. With a century of experience, you can count on our knowledge and expertise to get the job done right!
Other Cities We Serve
Arkadelphia, AR
Benton, AR
Cabot, AR
Haskell, AR
Hot Springs Village, AR
Mayflower, AR
Roland, AR
Scott, AR
Sherwood, AR
North Little Rock, AR