Our Promotions
Furnace Repair In Jacksonville: FAQs
What Are the Most Common Furnace Issues?
If your furnace has been breaking down or your electric bill has suddenly skyrocketed, you may be well overdue for furnace repair in Jacksonville.
Some common signs that your furnace needs repair include:
Unusual noises
Increased energy bills
Decreased air quality
Malfunctioning pilot light
If you notice a rotten egg odor, you should call a Jacksonville area furnace repair technician immediately. This is often a sign of a gas leak and possible carbon monoxide leak, which can be a health and safety issue.
Even if it seems minor, be proactive and limit the risk of a broken furnace! Schedule a service call with our team to have your furnace repaired. Jacksonville's cold weather won't wait.
How Do I Know if I Have a Gas Leak?
A gas leak can be potentially dangerous and should be addressed right away. The most common sign that you may have a gas leak is a strong sulfur or rotten egg smell. This is caused by a chemical added to home heating oil to help alert homeowners of gas leaks.
Another lesser known sign is a hissing sound coming from your furnace. Every once in a while, you should listen when your furnace isn't running to see if you hear any noises. This is caused by the pressure of the natural gas inside the heat exchanger.
A gas leak can be dangerous as it causes carbon monoxide to be released into the air. If you notice something, have your gas furnace checked by a heating and cooling specialist immediately!
What is the Typical Lifespan of a Furnace?
Most gas furnaces last between 15 and 20 years, while electric furnaces have an average lifespan of 25 years.
The lifespan of your furnace can also be impacted by local weather conditions. With the weather in Jacksonville, furnace repairs are more frequently needed if the unit is over 10 years old.
The best way to extend the life of your electric, oil, or gas furnace is with maintenance services. We recommend scheduling professional service on your furnace at least once a year to maintain energy efficiency and good indoor air quality, and to extend the life of your heating system.
To make sure your furnace lasts as long as it can, make sure to schedule an appointment with us for your furnace repair in Jacksonville today. Our team is ready to help!
How Can I Improve the Energy-Efficiency of my Furnace?
There are several simple ways to make your furnace more energy-efficient and save money on your energy bills. Here are a few tips to keep in mind:
Schedule regular maintenance for your furnace - this will help it run more efficiently and last longer.
Remember to change your air filter regularly - a clean filter allows for better airflow and can improve your furnace's efficiency.
Consider upgrading to a more energy-efficient furnace - models with higher AFUE ratings or that are Energy Star certified are a great choice.
Use a programmable thermostat - this can help you set the temperature when you're away, so you're not heating an empty house.
By following these tips, you can make your furnace more energy-efficient and save money on your energy bills, all while keeping your home comfortable. In Jacksonville, our furnace repair experts are also happy to come to your home and do a home energy audit. We can check for air leaks, clean ductwork, and give you other tips on how to keep your furnace running at its best!
What Is A Heat Exchanger?
A heat exchanger helps transfer heat from one source to another. You'll find them in a lot of different things, like heating and cooling systems, industrial equipment, cars, and even appliances.
In a furnace, a heat exchanger surrounds the combustion chamber, takes the heat from the burning fuel, and sends it through the air in your home. It's an important part of the furnace, and if it gets cracked or otherwise damaged, it can be both a safety hazard and an efficiency problem. A cracked heat exchanger can release carbon monoxide, a dangerous and potentially deadly gas, into the home.
For even heating and air quality, it's important to have regular maintenance and check-ups to make sure everything is working well and safely. If you think you may have an issue, call the hardworking team at Dash Heating & Cooling - we're here when you need us!
No Credit Check Financing Option
No interest & no payments
for 60 months
Learn more
Priceless Peace Of Mind,
$15.95 A Month
Join the Dash Comfort Club and get all the perks of
membership:
Seasonal tune-ups.
Priority Scheduling.
100% satisfaction guaranteed.
Learn more
We're Your Local Home Service Experts
It's All Guaranteed
The Best Techs. The Friendliest Service.
For over 90 years, DASH has focused on customer satisfaction and exceptional service. We will do our best to continue with tradition to keep your best interest, and as always, we'll expect nothing short of 100% satisfaction, guaranteed.
Learn more about Us
Fast Response
Your calls are greeted by our in-house staff, who will schedule you for immediate service. Same-day service available for most emergencies so you never have to wait to get your problem under control.
Schedule Now
True Transparency Pricing
Most heating and air companies use industry-standard pricing, but DASH HEATING & COOLING® is different – that's why we offer DASH True Transparency Pricing. This new pricing structure provides you visibility into our costs of doing business, so you can continue to trust what you get from DASH.
Read more
Our Guarantees

All Techs Are Drug Tested & Undergo Background Checks

Our friendly team consists of highly-trained and respectful professionals, ensuring your home's safety and delivering exceptional service.

Pristine
Property Protection

We protect your home by wearing floor savers, using floor runners, and cleaning our work area.

NATE & EPA
Certification

Every DASH technician is up-to-date on their certifications. By doing so, they remain current with the safest and most effective industry practices.
Providing Quality Furnace Repair In Jacksonville For Over 90 Years!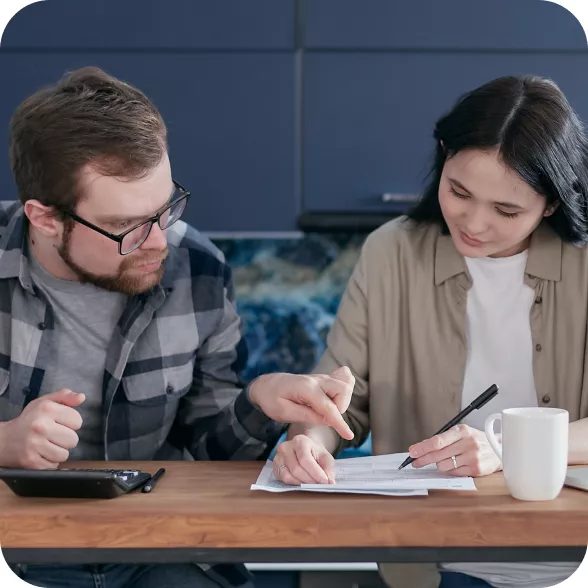 Save Money With Dash For Furnace Repair In Jacksonville!
At Dash, we offer True Transparency Pricing.
That means there are no secrets or hidden fees, no markups, no commissions, just fair prices. Honestly - you only pay what we pay! In fact, on average, 85% of all repairs performed by us cost around $205.
We also offer special financing options for larger purchases. And because we just love saving you money, we even have a 24-7 membership package, full of perks and money-saving opportunities. Fancy that!
Affordability is important, but so is quality, and we've got that covered too. We've been in business for 91 years, and have earned our great reputation in the Greater Jacksonville area by providing expert services with care.
If cost is a concern, you can trust that we've got your back at Dash Heating & Cooling!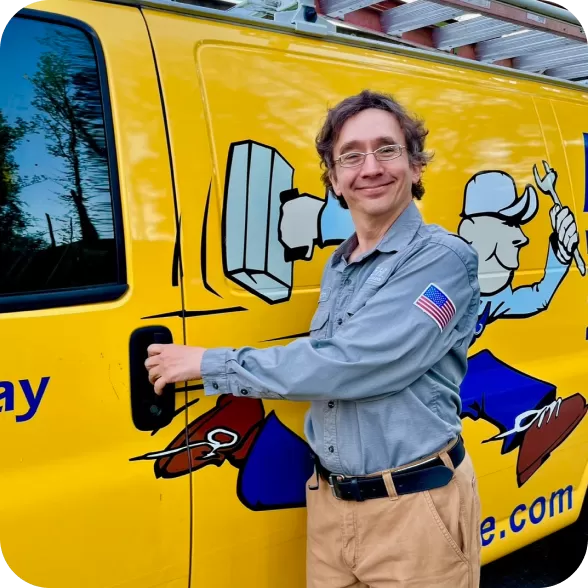 What To Expect During Your Service Call
When you contact us to schedule your furnace repair in Jacksonville, you can expect top-notch service. During your scheduled service, we will share our expertise and make our best recommendations to help ensure your furnace is in good working order all year.
Our HVAC experts will carefully answer any questions you may have, and we guarantee 100% customer satisfaction. Plus, if we don't show up within 2 hours of your scheduled service, it's free of charge. No joke!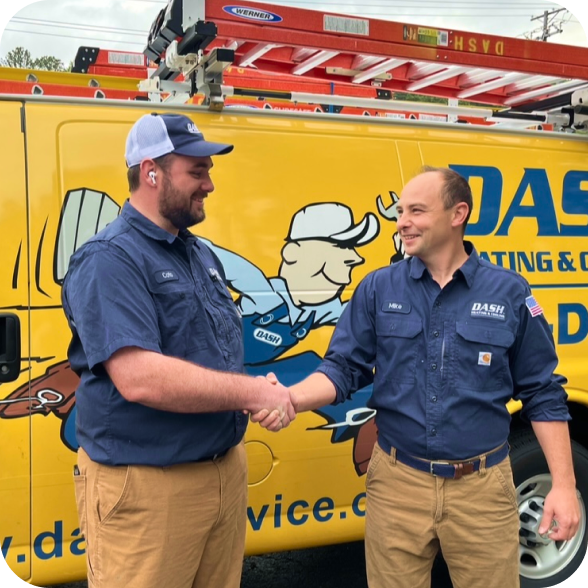 Highly Trained, Friendly & Knowledgeable - Trust The Experts At Dash!
Dash has been a family-owned and operated business for over 90 years. We care about our community and have worked hard to build a name for ourselves as the leading HVAC company in the Greater Little Rock Area. Not only do we provide affordable, exceptional service, we also mean it when we say that we're here for you.
Our team of HVAC professionals is highly trained, friendly, and knowledgeable about all things related to furnace repair. Throughout Jacksonville and the Greater Little Rock area, we also offer a 100% satisfaction guarantee - we promise you'll always be left happy, warm, and comfortable after our visit.
You can count on us for the best furnace repair in Jacksonville. Find out for yourself - schedule an appointment today!
We're Here When You Need Us, Guaranteed
It shouldn't be difficult to find professional, reliable furnace repair in Jacksonville. If you aren't sure which way to turn, turn toward Dash! We're available 24 hours a day and ready to serve you at a moment's notice.
We back this up with our on-time promise - we're there when we say, or you don't pay! With a guaranteed 2-hour time window for furnace repair in Jacksonville, you won't pay the service call fee if we're not there as scheduled.
We're reliable, efficient, and, most of all, friendly! We promise to cross all our i's and dot all our t's. We ensure that all the furnaces we repair are up and running in their best shape before we even think about saying our job is complete. You can count on it.
Services Available In Jacksonville, AR Area
Customer Reviews
We now will always call and refer you to others when we need heating or air conditioning service. I'm sorry we had air conditioning trouble but glad to say we found your business due to that misfortune. We now will always call and refer you to others when we need heating or air conditioning service. Thanks so much for the great people.
Thelma Tucker
Our experience with DASH has been exceptional. Their technicians are always professional and courteous. Our experience with DASH has been exceptional. Their technicians are always professional and courteous. DASH has been servicing our home for more than ten years, with both new equipment and seasonal maintenance. We continue to enjoy a comfortable home.
Traci
I now appreciate the value of having the club membership. I am pleased with how quickly you responded to and repaired our air conditioning unit. I now appreciate the value of having the club membership.
Bruce Wilson
Our service areas
DASH Proudly provides service to Central Arkansas, Hot Springs, And Surrounding Areas homeowners. With a century of experience, you can count on our knowledge and expertise to get the job done right!
Other Cities We Serve
Arkadelphia, AR
Benton, AR
Cabot, AR
Haskell, AR
Hot Springs Village, AR
Mayflower, AR
Roland, AR
Scott, AR
Sherwood, AR
North Little Rock, AR