Our Promotions
FAQ about our heating installers
When do I need a heater replacement?
You should consider heater replacement when your current system is outdated, inefficient, or frequently breaking down. If your energy bills are rising, uneven heating occurs, or your system is over 15-20 years old, it's time to consult our heating installers for a new heater installation.
How does Jacksonville's climate affect my heater installation or heating replacement?
Jacksonville's climate demands reliable heating. Prioritize energy efficiency to combat fluctuating temperatures, and consult our Jacksonville-based heating installers for climate-specific recommendations on heater installations and heating replacements.
How does the colder season impact heating system performance and heater installations?
Cold seasons strain heating systems. It's crucial to choose a system that can handle Jacksonville's winters. Ensure proper insulation and regular maintenance, and consider investing in a more efficient heater installation to combat the cold effectively.
How can homeowners ensure their heater installation is prepared for the colder months?
Homeowners can ensure their heater installation is ready for the cold by changing filters and checking for critical leaks. Additionally, consult expert heating installers for a pre-winter system check to ensure your heating system is in optimal condition.
Is it safe to attempt a heater installation alone, or should I call a professional heater installer?
While DIY projects can be tempting, heater installation is complex and potentially hazardous. It's safer and more efficient to rely on professional heating installers with the expertise and tools to ensure a safe and reliable heater installation.
Why should I hire your heating installers?
Our heating installers offer local expertise, customized solutions, and a commitment to professionalism and reliability. We understand Jacksonville's climate and tailor our services to your needs, ensuring your heater installation or heating replacement runs efficiently and keeps you warm and safe during the colder months.
No Credit Check Financing Option
No interest & no payments
for 60 months
Learn more
Priceless Peace Of Mind,
$15.95 A Month
Join the Dash Comfort Club and get all the perks of
membership:
Seasonal tune-ups.
Priority Scheduling.
100% satisfaction guaranteed.
Learn more
We're Your Local Home Service Experts
It's All Guaranteed
The Best Techs. The Friendliest Service.
For over 90 years, DASH has focused on customer satisfaction and exceptional service. We will do our best to continue with tradition to keep your best interest, and as always, we'll expect nothing short of 100% satisfaction, guaranteed.
Learn more about Us
Fast Response
Your calls are greeted by our in-house staff, who will schedule you for immediate service. Same-day service available for most emergencies so you never have to wait to get your problem under control.
Schedule Now
True Transparency Pricing
Most heating and air companies use industry-standard pricing, but DASH HEATING & COOLING® is different – that's why we offer DASH True Transparency Pricing. This new pricing structure provides you visibility into our costs of doing business, so you can continue to trust what you get from DASH.
Read more
Our Guarantees

All Techs Are Drug Tested & Undergo Background Checks

Our friendly team consists of highly-trained and respectful professionals, ensuring your home's safety and delivering exceptional service.

Pristine
Property Protection

We protect your home by wearing floor savers, using floor runners, and cleaning our work area.

NATE & EPA
Certification

Every DASH technician is up-to-date on their certifications. By doing so, they remain current with the safest and most effective industry practices.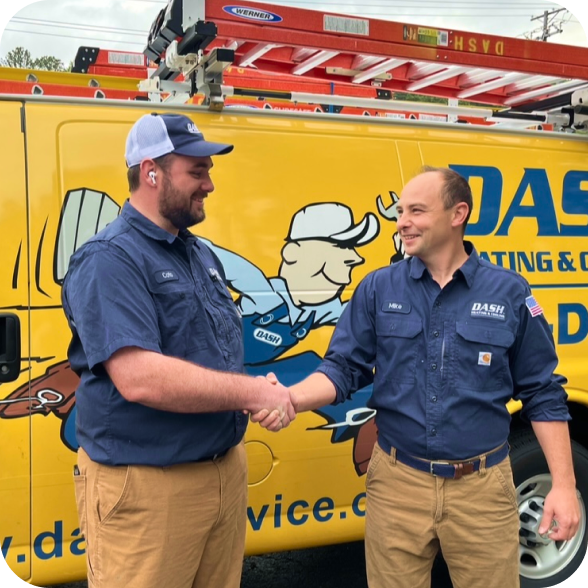 Stay warm with our heating services
If you're in need of heater installation or heating replacement in Jacksonville, AR, Dash is your trusted local expert! As lifelong residents, we know just how our local climate can test our homes. That's precisely why we tailor our heating solutions to fit the unique needs of our community like a glove.
Our seasoned heating installers will thoroughly assess your current heating installation to pinpoint the ideal system that promises to envelop your home and family in warmth and comfort.
Ready for an upgrade? Our heating replacement services are on-point, ensuring your new heater is up and running with precision and care. And because we understand that heating troubles can arise without a moment's notice, we provide 24/7 support to ensure you're never left in the chill.
Opting for Dash for your heater installation and heating replacement means choosing a partner dedicated to your warmth and well-being.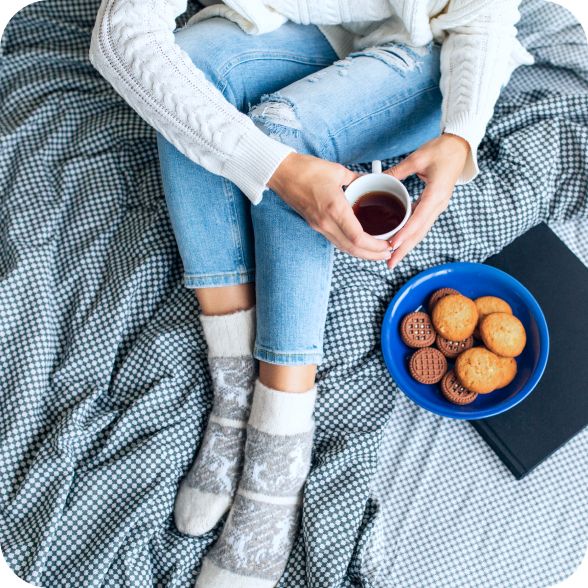 Heater installation done right from the start!
In Jacksonville, a proper heater installation is crucial, and you deserve a team of heating installers who grasp the true value of a job well done. Rest assured, at Dash we're that team!
Building a new place? We'll make sure your heater installation is top-tier from the get-go, ensuring a cozy and inviting home. If your existing system is falling short, we'll help you find you an upgrade that's just right.
Our heating installers are meticulous in assessing your home to guarantee your heating is perfectly sized for efficiency and comfort—nothing more, nothing less.
Selecting the ideal heating system for your Jacksonville home is key to year-round comfort and cost-saving energy efficiency. Rely on us for your heater installation needs. We pledge to deliver outstanding heating solutions with clear, upfront pricing—no gimmicks, no surprises!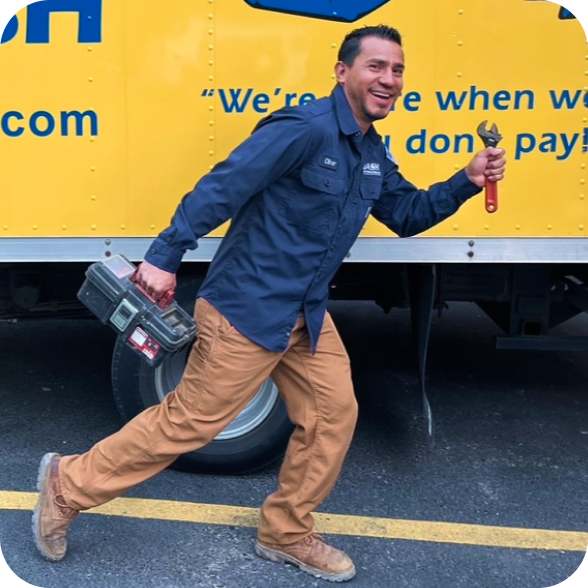 Upgrade your comfort with heating replacement
Heating replacement is about swapping out an aging or faulty heater for a new, energy-efficient model. Smooth transitions are our forte, and we take them seriously because your comfort and safety are on the line.
So, when do you consider a heating replacement? Here are a few signs:


Old heating system
Increased energy bills
Uneven heating
Frequent breakdowns
Excessive noise

Putting off a heating replacement might mean heftier bills and safety hazards down the road. Plus, an unreliable old system can suddenly turn into an emergency call when you least expect it. But here's the good news—our seasoned heating installers will take a look at your current heater installation and, if you decide to go ahead with the service, we'll drop the $78 service fee!
Don't let a stubborn old heater steal your warmth. Give us a call to get your heating replacement sorted. We're committed to keeping your Jacksonville home snug and secure.
Staying cozy and safe: Your ultimate winter safety guide
As Jacksonville's winter approaches, ensuring your family's safety means having a reliable heating system. Heater installation and heating replacement are about safeguarding your home against the cold.
A well-functioning heater does more than just warm your spaces; it also protects against the dangers of frozen pipes, which can lead to expensive repairs and significant water damage.
Moreover, you don't want an outdated heater quitting on you when the temperatures drop. The health risks of enduring cold snaps indoors are serious, particularly for the young, elderly, or those with medical conditions.
Now, here are a few tips straight from our professional heating installers:


Regularly swap out air filters to keep things running smoothly.
Check that your home is well-insulated; it's essential for keeping the warmth in.
And don't forget to give Dash a ring for a check-up to fix any potential issues in time.

You don't have to navigate this alone. Our team of heating installers is on standby, ready to assist. We're just a call away and always here to help.
We're your reliable, expert heating installers in Jacksonville!
When the chill sets in, you need a Jacksonville heating service you can count on – that's where Dash comes in.
Our heating installers are local experts who truly get the specific heating needs of our community. We're taking care of our neighbors, ensuring you stay toasty when the winter winds blow.
Expect personalized heating solutions, whether it's for your cozy home or your bustling business. Our approach is tailored to fit your unique situation because we know heating is never a one-size-fits-all deal.
Here at Dash, we stand for unwavering professionalism and reliability. Our team is committed to excellence, ensuring every job is done right – the first time. For bespoke solutions and dependable service, Jacksonville's own heating installers are here for you. Let's keep you warm and worry-free this winter. Call us today!
Services Available In Jacksonville, AR Area
Customer Reviews
We now will always call and refer you to others when we need heating or air conditioning service. I'm sorry we had air conditioning trouble but glad to say we found your business due to that misfortune. We now will always call and refer you to others when we need heating or air conditioning service. Thanks so much for the great people.
Thelma Tucker
Our experience with DASH has been exceptional. Their technicians are always professional and courteous. Our experience with DASH has been exceptional. Their technicians are always professional and courteous. DASH has been servicing our home for more than ten years, with both new equipment and seasonal maintenance. We continue to enjoy a comfortable home.
Traci
I now appreciate the value of having the club membership. I am pleased with how quickly you responded to and repaired our air conditioning unit. I now appreciate the value of having the club membership.
Bruce Wilson
Our service areas
DASH Proudly provides service to Central Arkansas, Hot Springs, And Surrounding Areas homeowners. With a century of experience, you can count on our knowledge and expertise to get the job done right!
Other Cities We Serve
Arkadelphia, AR
Benton, AR
Cabot, AR
Haskell, AR
Hot Springs Village, AR
Mayflower, AR
Roland, AR
Scott, AR
Sherwood, AR
North Little Rock, AR