Our Promotions
Duct cleaning in Jacksonville: FAQs
What is air duct cleaning?
Air duct cleaning is the process of removing dirt, debris, and pollutants that accumulate in your air ducts over time. With DASH's air duct cleaning services, you can trust that we'll get every nook and cranny, leading to cleaner air and a healthier living environment for your home.
How often should air ducts be cleaned?
To combat wear and tear and maintain clean air, we recommend that your dryer vents and air ducts be cleaned at least once every three to five years. However, if you have pets, children, or allergy sufferers at home, you might want to schedule your dryer and air duct cleaning services a bit more often.
How long does the AC duct cleaning process take?
The duration of the air duct cleaning process can vary based on the size of your home and the condition of your ducts. Generally, you can expect professional AC duct cleaning to take around 3 to 5 hours. With our team, you can always count on the right balance of speedy and thorough - DASH is our name for a reason!
Is it necessary to clean both air conditioning ducts and heating ducts?
Absolutely, air conditioning duct cleaning, heating duct cleaning, and dryer duct cleaning are all vital in ensuring clean, fresh air in your home. Each system presents its unique challenges, but rest assured, we've got the expertise to tackle all of them.
Can I clean my air ducts myself, or do I need a professional service?
You could try, but it won't be nearly as thorough or safe as hiring DASH's professional air duct cleaners. With the specialized equipment and training we have, you can rest easy knowing your ducts are cleaned to the highest standards in Jacksonville.
Are your cleaning products safe for the environment and pets?
Yes, they are. We're just as concerned about your four-legged family members and the planet as you are. Our air conditioning duct cleaning, heating duct cleaning, and dryer duct cleaning products are eco-friendly and pet-safe, making your home cleaner without worries.
What sets your air duct cleaning service apart from others in Jacksonville, AR?
Long story short, it's our local expertise of over 90 years and our unwavering commitment to customer satisfaction. When you choose DASH, you're not just another client; you're family.
No Credit Check Financing Option
No interest & no payments
for 60 months
Learn more
Priceless Peace Of Mind,
$15.95 A Month
Join the Dash Comfort Club and get all the perks of
membership:
Seasonal tune-ups.
Priority Scheduling.
100% satisfaction guaranteed.
Learn more
We're Your Local Home Service Experts
It's All Guaranteed
The Best Techs. The Friendliest Service.
For over 90 years, DASH has focused on customer satisfaction and exceptional service. We will do our best to continue with tradition to keep your best interest, and as always, we'll expect nothing short of 100% satisfaction, guaranteed.
Learn more about Us
Fast Response
Your calls are greeted by our in-house staff, who will schedule you for immediate service. Same-day service available for most emergencies so you never have to wait to get your problem under control.
Schedule Now
True Transparency Pricing
Most heating and air companies use industry-standard pricing, but DASH HEATING & COOLING® is different – that's why we offer DASH True Transparency Pricing. This new pricing structure provides you visibility into our costs of doing business, so you can continue to trust what you get from DASH.
Read more
Our Guarantees

All Techs Are Drug Tested & Undergo Background Checks

Our friendly team consists of highly-trained and respectful professionals, ensuring your home's safety and delivering exceptional service.

Pristine
Property Protection

We protect your home by wearing floor savers, using floor runners, and cleaning our work area.

NATE & EPA
Certification

Every DASH technician is up-to-date on their certifications. By doing so, they remain current with the safest and most effective industry practices.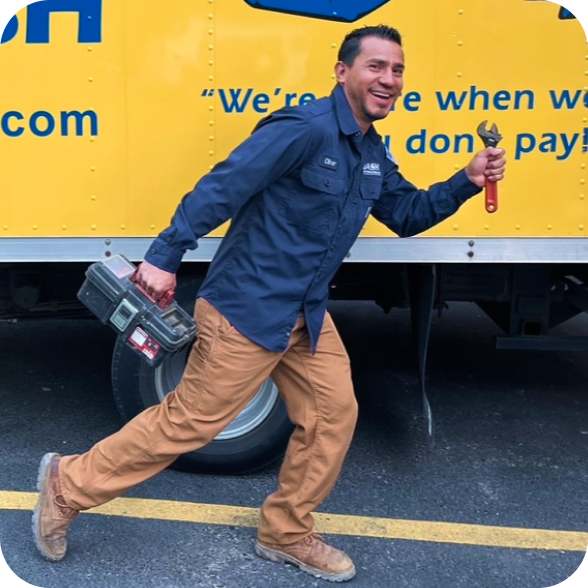 Jacksonville's experts in AC duct cleaning
When it comes to air duct cleaning, folks in Jacksonville, AR, and the surrounding areas, have come to rely on DASH for our experience and know-how. Our team doesn't just clean; we revitalize your air duct system.
What makes us stand out? Simple: Our commitment to thoroughness. From initial inspection to the cleaning process itself, every corner and every twist of your duct system gets meticulous attention. We even offer specialized services such as furnace duct cleaning and dryer vent and air duct cleaning. The result? A home where every breath is a sigh of relief.
Your duct system faces wear and tear over time, affecting not only the quality of your air but also the efficiency of your home systems. That's where our professional air conditioning duct cleaning crew comes in. Equipped with the latest tools to improve your home's overall atmosphere and efficiency, we leave no stone left unturned.
We're your neighbors. So, trust us when we say: don't let your ducts gather dust. Join the scores of satisfied customers and schedule your duct cleaning with DASH today!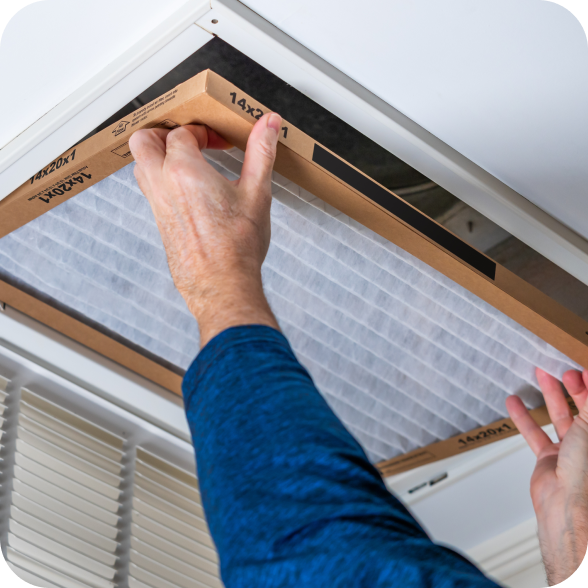 Our thorough air duct cleaning process
Our air duct cleaning process has been honed through years of experience and countless homes cleaned in Jacksonville.
First, we perform an in-depth inspection to gauge the wear and tear your ducts have seen over time.
We prep your home to ensure everything goes smoothly. Our AC duct cleaning crew will lay down protective coverings so your home remains as impeccable as we found it.
Next comes the actual cleaning process. We use specialized equipment that effectively removes debris and grime without damaging the ducts. We tackle all kinds of challenges from dryer duct cleaning to furnace duct cleaning. Every nook and cranny is addressed.
After cleaning, we conduct final checks to ensure everything is in working order.
Finally, we let you inspect the work we've done, so you see firsthand the difference our service makes. And, if you're not absolutely thrilled, we make it right.
So, what are you waiting for? Your home deserves air conditioning duct cleaning solutions that ensure clean air and an efficient system. Schedule your duct cleaning with DASH today!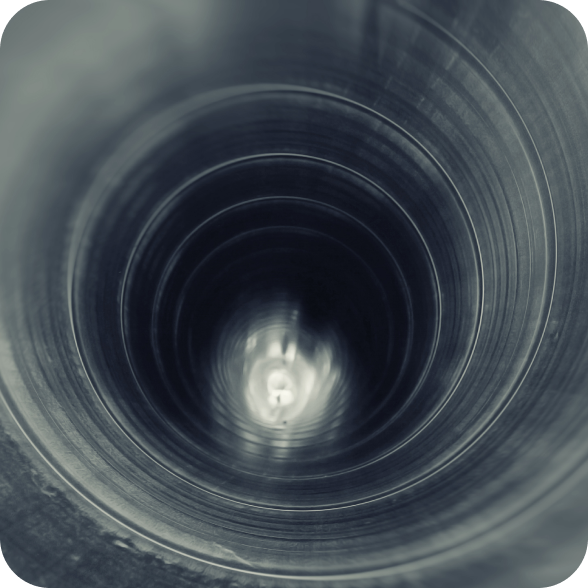 Signs that you need duct cleaning services
You might be wondering when's the right time to schedule a duct cleaning service. To help you out, we've compiled some telltale signs:
Excessive dust accumulation: If you see more dust bunnies around your vents than usual, that's a sign you need a good air conditioning duct cleaning.
Noticeable moldy or musty odors: If your home has taken on a musty or moldy aroma, it's high time for air duct cleaning.
Increased allergy or respiratory symptoms: Are you constantly sneezing? Then you should look into your home's air ducts, and include dryer duct cleaning in the mix. Cleaner ducts mean less irritation and more comfort for you and your loved ones.
Uneven airflow: This could very well mean your ducts are working overtime due to blockages. Time to call in DASH's professional AC and heating duct cleaning!
Sudden spike in energy bills: Blocked ducts make your system work harder, and that's reflected in your bills.
If you are experiencing any of these issues, don't hesitate to reach out for expert duct cleaning services. Your home will thank you and so will your wallet. Schedule your dryer and HVAC duct cleaning with DASH today!
Why hire DASH for air duct cleaning services?
When it comes to air conditioning duct cleaning, we're no slouches. Our team specializes in scrubbing those coils and diffusers, to ensure your airflow is smooth as silk. Is cold weather sneaking up? Don't fret! Our furnace duct cleaning services will keep you cozy and comfortable throughout the winter months.
If it's comprehensive heating duct cleaning you're after, look no further. We tackle each project with a focus on the details, ensuring that you're getting the most value for your money. Rest assured, we don't stop there - by offering dryer duct cleaning and AC duct cleaning as well, DASH has you covered year-round.
With over 90 years of serving Jacksonville and the surrounding areas, we have a unique advantage regarding HVAC duct cleaning for local homes. We know the specific environmental challenges and how to tackle them. In short, we've got Arkansan expertise that can't be beaten.
Your 100% satisfaction is our priority; we are not done until you're breathing clean air and smiling from ear to ear. So, if you're noticing any irregularities in your home or just want a cleaner living environment, just call DASH for the top dryer duct cleaning and HVAC duct cleaning services in town!
How does air duct cleaning benefit my health?
Is air duct cleaning really worth it? The short answer is yes, and here's a breakdown of HVAC duct cleaning benefits:
Reduced allergens and pollutants: We know how bothersome allergy season can be. Who wants to sneeze all day long? That's why dryer vent and air duct cleaning services are so vital. We remove the very particles that irritate your senses.
Healthier living environment: Cleaner air ducts lead to a healthier living space. If you reside in Jacksonville, you know that the climate can present its own set of challenges. We've got your back with thorough HVAC duct cleaning to ensure that the air you breathe is clean and fresh, from the living room to the attic.
If you're looking for a cleaner, healthier home, DASH's duct cleaning services are just the ticket. Call us to schedule your dryer and air duct cleaning today!
Other Services In Jacksonville, AR
Customer Reviews
We now will always call and refer you to others when we need heating or air conditioning service. I'm sorry we had air conditioning trouble but glad to say we found your business due to that misfortune. We now will always call and refer you to others when we need heating or air conditioning service. Thanks so much for the great people.
Thelma Tucker
Our experience with DASH has been exceptional. Their technicians are always professional and courteous. Our experience with DASH has been exceptional. Their technicians are always professional and courteous. DASH has been servicing our home for more than ten years, with both new equipment and seasonal maintenance. We continue to enjoy a comfortable home.
Traci
I now appreciate the value of having the club membership. I am pleased with how quickly you responded to and repaired our air conditioning unit. I now appreciate the value of having the club membership.
Bruce Wilson
Our service areas
DASH Proudly provides service to Central Arkansas, Hot Springs, And Surrounding Areas homeowners. With a century of experience, you can count on our knowledge and expertise to get the job done right!
Other Cities We Serve
Arkadelphia, AR
Benton, AR
Cabot, AR
Haskell, AR
Hot Springs Village, AR
Mayflower, AR
Roland, AR
Scott, AR
Sherwood, AR
North Little Rock, AR