Our Promotions
Furnace Repair In Conway FAQs
A furnace is a heating system that warms up the air in a room or building using a central heating unit. It's typically fueled by natural gas, propane, or oil. The furnace burns the fuel to produce heat, which is then distributed throughout the building using a series of ducts and vents. Furnaces are commonly used in homes and buildings to provide heat during the colder months.
Because a furnace is such a vital system for your home, it needs to be well taken care of. If you are experiencing any issues with your furnace, for repair and service in Conway, trust the HVAC repair experts at DASH!
What Issues Could Cause My Furnace to Stop Working?
If your furnace system suddenly stops working, it's important to remember when your last furnace repair was. Conway is known to have chilly winters, so keeping your furnace serviced regularly will ensure the health of your system.
If you're having an issue with your furnace, it could be due to an old, clogged air filter, a faulty power switch, or a broken thermostat. In colder climates, furnaces are put to more use, which could cause them to become prone to more malfunctions.
Whatever the reason, we guarantee that our expert team will find a solution to the problem. We're the number one company for furnace repair in Conway, AR, and we aim to prove it!
How Do I Know if I Need a New Furnace or if it Just Needs to Be Repaired?
If your furnace is more than 15 years old and has become unreliable, it may be time to consider a new unit. Additionally, if you're having frequent repairs done to your furnace, it may also be time to consider a replacement. Typically, if the repairs cost more than half the price of a new unit, we suggest an upgrade.
If your furnace is less than 15 years old and is making strange noises, emitting unusual odors, or producing insufficient heat, you may only need a repair.
For furnace repair services in Conway and surrounding areas, our experts at DASH Heating & Cooling offer 24/7 services. When your system isn't working correctly, we'll diagnose the problem with your furnace and recommend the best course of action. Call us today!
How Long Does it Take to Repair a Furnace?
When you are having a heating issue, you want it fixed fast!
However, the length of time to repair a furnace can depend on the severity of the issue and the availability of parts. For minor repairs, it may only take a few hours. For more complex repairs, it could take a full day or more. Our team at DASH Heating & Cooling will always provide a timeline for the repair and keep you informed every step of the way.
We also guarantee that we'll be there when we say it - if we're not there within the 2-hour window we provided, the service fee is on us. We don't want you to have to sit in the cold any longer than you have to, so for furnace repair in Conway, give us a call today!
How Do I Know if the Issue with my Furnace is an Emergency?
If your system isn't working at all, you already know it's an emergency. However, there are some other signs that you should call an HVAC repair technician right away:
If your carbon monoxide alarm is going off, your furnace may be producing carbon monoxide, which can be lethal, so please call a heating repair company immediately.
If you smell gas or have any reason to suspect a gas leak, you should evacuate the building and call the gas company.
If the pilot light for your furnace is yellow or orange, this is an airflow issue and could also signify carbon monoxide release.
For any furnace repair emergency in Conway, AR, or the surrounding areas, call DASH Heating & Cooling for fast, reliable service and installation. Our team values customer service and comes highly recommended for all heating repair needs.
No Credit Check Financing Option
No interest & no payments
for 60 months
Learn more
Priceless Peace Of Mind,
$15.95 A Month
Join the Dash Comfort Club and get all the perks of
membership:
Seasonal tune-ups.
Priority Scheduling.
100% satisfaction guaranteed.
Learn more
We're Your Local Home Service Experts
It's All Guaranteed
The Best Techs. The Friendliest Service.
For over 90 years, DASH has focused on customer satisfaction and exceptional service. We will do our best to continue with tradition to keep your best interest, and as always, we'll expect nothing short of 100% satisfaction, guaranteed.
Learn more about Us
Fast Response
Your calls are greeted by our in-house staff, who will schedule you for immediate service. Same-day service available for most emergencies so you never have to wait to get your problem under control.
Schedule Now
True Transparency Pricing
Most heating and air companies use industry-standard pricing, but DASH HEATING & COOLING® is different – that's why we offer DASH True Transparency Pricing. This new pricing structure provides you visibility into our costs of doing business, so you can continue to trust what you get from DASH.
Read more
Our Guarantees

All Techs Are Drug Tested & Undergo Background Checks

Our friendly team consists of highly-trained and respectful professionals, ensuring your home's safety and delivering exceptional service.

Pristine
Property Protection

We protect your home by wearing floor savers, using floor runners, and cleaning our work area.

NATE & EPA
Certification

Every DASH technician is up-to-date on their certifications. By doing so, they remain current with the safest and most effective industry practices.
The Most Highly Recommended Company For Furnace Repair Services In Conway, AR!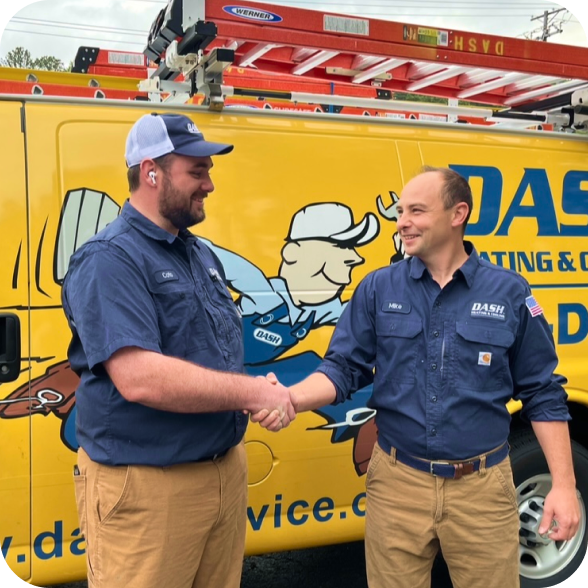 What To Expect During Your Service Call
When you contact us to schedule your furnace repair in Conway, you can expect nothing but the best. First of all, we guarantee punctuality - or you don't pay a dime! We aren't pulling your leg, if we don't show up within 2 hours of your scheduled service, it's free of charge.
We'll also share our expertise and provide you with our highest recommendations to help ensure your furnace stays at its healthiest, year-round. Our HVAC experts are ready to answer any questions you may have, and once we've fixed the problem, we guarantee 100% customer satisfaction.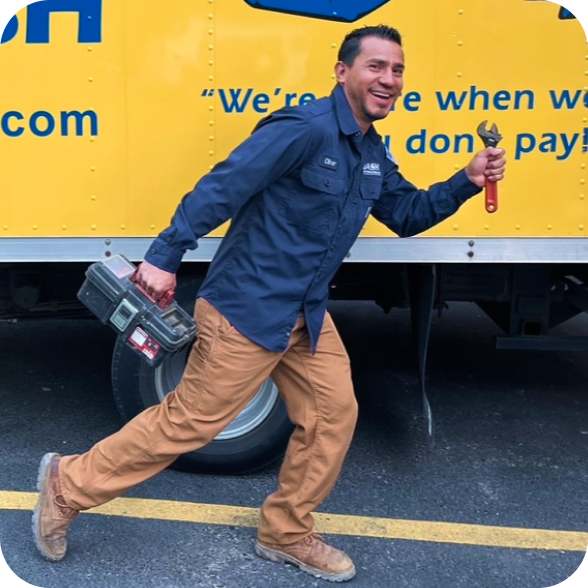 Our Customer Service Legacy
As a family-owned and operated business for over 90 years, we've solidified our place at the top. We provide nothing but affordable, exceptional service. When we say that furnace repair in Conway is our specialty, we really mean it. Rest assured, you can count on DASH for your Conway furnace repair needs. Our reputation can prove it.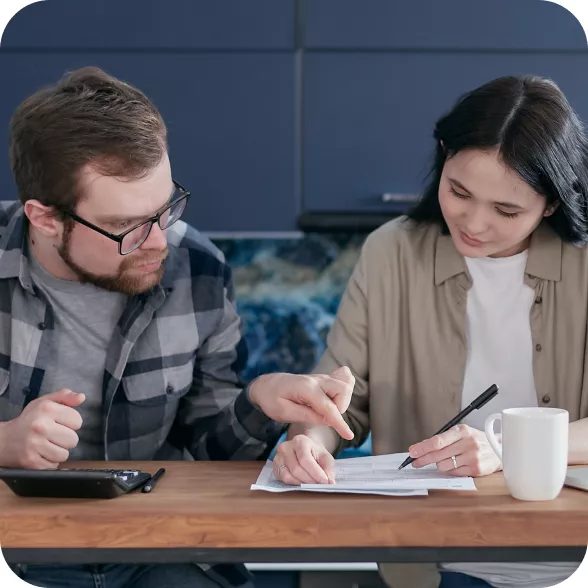 Worry-Free Financing Solutions
If money is a concern, we've got your back. Did we mention that we provide True Transparency Pricing? That means there are no hidden fees, and you only pay what we pay - guaranteed!
We also offer special financing options for larger purchases. Last but not least, our exclusive Comfort Club membership club is chock-full of special perks that help you keep more of your hard-earned money in your wallet. Serving your whole home, we're always offering ways to save on heating and air conditioning service, installation, and HVAC repair.
If In Doubt, Contact DASH For Your Conway Furnace Repair
DASH Heating & Cooling is locally owned and operated out of Little Rock, Arkansas, and when it comes to furnace repair in Conway, we outperform the competition. Our experienced technicians are knowledgeable and friendly and always strive to provide excellent customer service. We're highly recommended by our community members, with hundreds of 5-star reviews naming DASH Heating & Cooling as the leading HVAC company in the Greater Little Rock area.
We work with all types of HVAC systems, including heating and air conditioning systems. Our technicians are highly trained and experienced in HVAC repair, service, and installation. If you have any questions about your furnace or HVAC system, don't hesitate to contact us - at DASH Heating & Cooling, furnace repair in Conway is our specialty.
Services Available In Conway, AR Area
Customer Reviews
We now will always call and refer you to others when we need heating or air conditioning service. I'm sorry we had air conditioning trouble but glad to say we found your business due to that misfortune. We now will always call and refer you to others when we need heating or air conditioning service. Thanks so much for the great people.
Thelma Tucker
Our experience with DASH has been exceptional. Their technicians are always professional and courteous. Our experience with DASH has been exceptional. Their technicians are always professional and courteous. DASH has been servicing our home for more than ten years, with both new equipment and seasonal maintenance. We continue to enjoy a comfortable home.
Traci
I now appreciate the value of having the club membership. I am pleased with how quickly you responded to and repaired our air conditioning unit. I now appreciate the value of having the club membership.
Bruce Wilson
Our service areas
DASH Proudly provides service to Central Arkansas, Hot Springs, And Surrounding Areas homeowners. With a century of experience, you can count on our knowledge and expertise to get the job done right!
Other Cities We Serve
Arkadelphia, AR
Benton, AR
Cabot, AR
Haskell, AR
Hot Springs Village, AR
Mayflower, AR
Roland, AR
Scott, AR
Sherwood, AR
North Little Rock, AR