Our Promotions
HVAC Service In Conway: FAQs
How Often Should My HVAC System Be Serviced?
It is highly recommended that you service your HVAC unit once a year.
HVAC maintenance helps ensure that your system is running efficiently, and reliably, and helps to extend the lifespan of your HVAC unit.
Conway heating and cooling systems need attention - for HVAC service in Conway, call DASH!
What Are the Most Common Issues with HVAC Systems?
There are times when your heating or air conditioning system will need repair. In Conway, some common HVAC issues include:
Dirty filters
Pilot light or ignition problems
Malfunctioning thermostats
Mechanical wear and tear
Water leaks
Blown fuses or tripped breakers
Dirty condenser or evaporator coils
Malfunctioning blower motors
If any of this is happening to you, for HVAC repair in Conway, DASH can help.
What is the Typical Lifespan of an HVAC System?
In Conway, HVAC systems generally last 10 to 15 years. However, your system becomes less efficient and is more prone to issues as it gets older. After about 10 years, you may want to start looking for a replacement.
Even if you are not having any major problems, modern HVAC systems will save you money on your energy bills because they are more energy-efficient. Plus, they generally come with 10-year warranties, so you won't need to worry about replacing them for quite a while.
If you think it's time that you get a new unit, for residential HVAC replacement in Conway, call DASH!
No Credit Check Financing Option
No interest & no payments
for 60 months
Learn more
Priceless Peace Of Mind,
$15.95 A Month
Join the Dash Comfort Club and get all the perks of
membership:
Seasonal tune-ups.
Priority Scheduling.
100% satisfaction guaranteed.
Learn more
We're Your Local Home Service Experts
It's All Guaranteed
The Best Techs. The Friendliest Service.
For over 90 years, DASH has focused on customer satisfaction and exceptional service. We will do our best to continue with tradition to keep your best interest, and as always, we'll expect nothing short of 100% satisfaction, guaranteed.
Learn more about Us
Fast Response
Your calls are greeted by our in-house staff, who will schedule you for immediate service. Same-day service available for most emergencies so you never have to wait to get your problem under control.
Schedule Now
True Transparency Pricing
Most heating and air companies use industry-standard pricing, but DASH HEATING & COOLING® is different – that's why we offer DASH True Transparency Pricing. This new pricing structure provides you visibility into our costs of doing business, so you can continue to trust what you get from DASH.
Read more
Our Guarantees

All Techs Are Drug Tested & Undergo Background Checks

Our friendly team consists of highly-trained and respectful professionals, ensuring your home's safety and delivering exceptional service.

Pristine
Property Protection

We protect your home by wearing floor savers, using floor runners, and cleaning our work area.

NATE & EPA
Certification

Every DASH technician is up-to-date on their certifications. By doing so, they remain current with the safest and most effective industry practices.
For HVAC Service In Conway, You Can Count On DASH!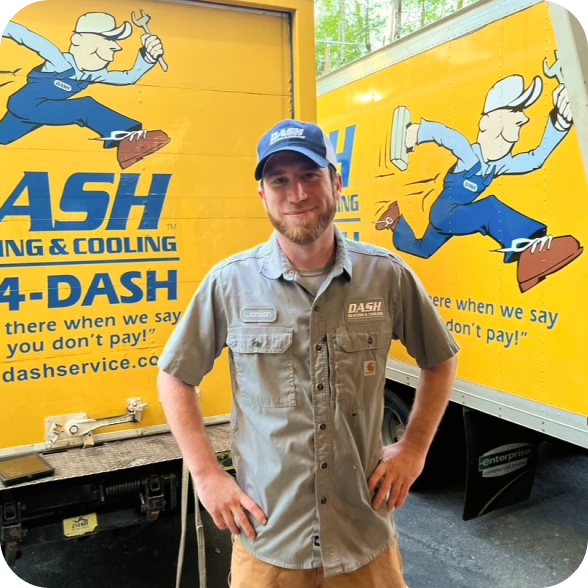 Heating & Cooling Service In Conway: What To Expect
DASH is one of the premier residential HVAC companies in Conway, AR. We come highly recommended by local residents - providing HVAC service in Conway, and the surrounding areas, for over 90 years!
When you call for heating or air conditioning repair, we'll review your needs and provide clear pricing for all services we will perform. Once our work is finished, we promise to leave your home even cleaner than we found it, and everything we do will be backed by our 100% customer satisfaction guarantee.
We're dedicated to offering the best customer service in the area and you can expect a level of care and precision that outperforms any and all residential HVAC companies in Conway. Our experts and technicians can identify the level of care you need for your home heating and cooling repair.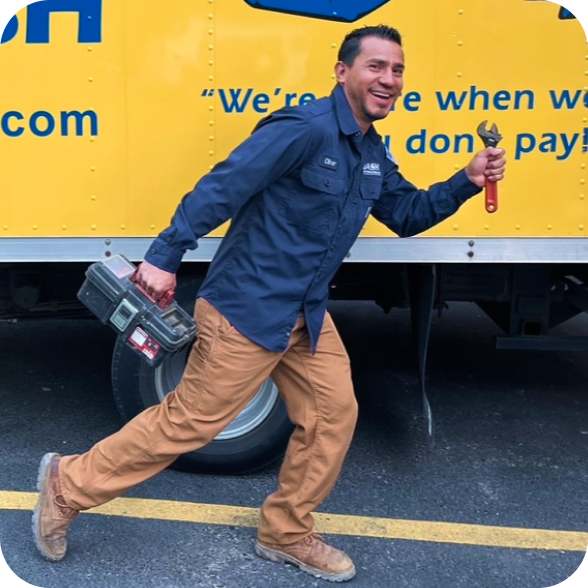 At DASH, We Act Fast!
As winter temps drop and summer temps soar, reliable heating and air conditioning systems are a necessity for indoor comfort. But what happens when your HVAC system breaks down in the middle of the night?
DASH offers 24-hour HVAC service in Conway and the surrounding areas. Our clients should never have to endure an uncomfortable home. Whether it's a malfunctioning furnace or a broken air conditioning system, our HVAC technicians are always on call to provide prompt and effective solutions!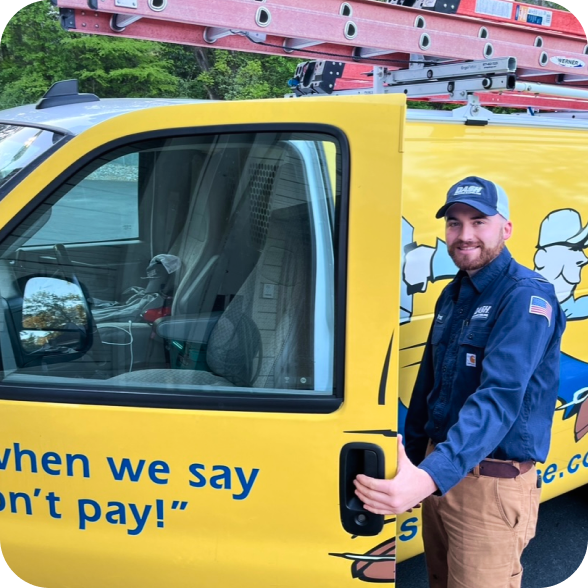 Emergency HVAC Service In Conway
When you're faced with an HVAC emergency in Conway, it's important to act fast, because when it comes to heating and cooling systems, unexpected emergencies can arise at any time.
Our emergency HVAC contractors in Conway are available to help residents with their HVAC needs 24/7. A broken air conditioning system during the sweltering summer months or a malfunctioning furnace during a cold winter night can be uncomfortable and even dangerous. We have staff on call round the clock and with a 2-hour service window guarantee, you can count on DASH to be there when you need us!
Why Choose DASH?
DASH is one of the premier HVAC companies in Conway and the entire state. With over 90 years of experience, our experts and technicians have seen it all and done it all. We provide 24-hour HVAC service, and emergency service, so we're available anytime, day or night.
We're also the team to trust for maintenance and heating and AC installation in Conway. With our Comfort Club, you'll save on annual maintenance, heating and air conditioning repair, and replacement equipment.
Customer service is one of our top priorities - we don't just guarantee quality work, we guarantee kindness, honesty, and respect.
Call us and trust us with your heating and cooling needs in Conway!
Services Available In Conway, AR Area
Customer Reviews
We now will always call and refer you to others when we need heating or air conditioning service. I'm sorry we had air conditioning trouble but glad to say we found your business due to that misfortune. We now will always call and refer you to others when we need heating or air conditioning service. Thanks so much for the great people.
Thelma Tucker
Our experience with DASH has been exceptional. Their technicians are always professional and courteous. Our experience with DASH has been exceptional. Their technicians are always professional and courteous. DASH has been servicing our home for more than ten years, with both new equipment and seasonal maintenance. We continue to enjoy a comfortable home.
Traci
I now appreciate the value of having the club membership. I am pleased with how quickly you responded to and repaired our air conditioning unit. I now appreciate the value of having the club membership.
Bruce Wilson
Our service areas
DASH Proudly provides service to Central Arkansas, Hot Springs, And Surrounding Areas homeowners. With a century of experience, you can count on our knowledge and expertise to get the job done right!
Other Cities We Serve
Arkadelphia, AR
Benton, AR
Cabot, AR
Haskell, AR
Hot Springs Village, AR
Mayflower, AR
Roland, AR
Scott, AR
Sherwood, AR
North Little Rock, AR