Our Promotions
Heating And Cooling In Little Rock, Arkansas
What is the Process for Replacing a Heating or Cooling System?
The typical process for replacing a heating or cooling system starts with an assessment of your home heating and cooling needs.
One of our residential HVAC contractors in Little Rock, AR will provide a comprehensive evaluation of your existing system and recommends the appropriate replacement equipment. We will then provide you with a written estimate outlining the equipment, installation process, and cost. Once approved, our HVAC installation service will work with you to schedule a convenient installation time.
Our team of experienced and licensed professionals then will remove the old system, install the new equipment, and test the new system to ensure it is working efficiently.
We have over 90 years of experience installing heating and cooling systems in Little Rock, when you need an HVAC system replacement, trust DASH!
What is the Average Lifespan for an HVAC System?
In Little Rock, the average lifespan for an HVAC system is around 15-20 years, depending on the system's quality, usage, and maintenance. However, some systems may last longer with proper maintenance and repair. Here's a breakdown of different types of HVAC systems:
Furnaces: 15-30 years
Air conditioners: 10-15 years
Heat pumps: 10-15 years
Boilers: 15-30 years
Ductless mini-split systems: 20+ years
Our local HVAC contractors in Little Rock offer preventative maintenance programs to help extend the life of your HVAC system!
What Are the Most Common Issues with HVAC Systems?
While HVAC systems are designed to keep us comfortable year-round, they can experience issues from time to time. Here are some of the most common issues we see with HVAC systems in Little Rock, AR:
Dirty filters
Clogged condensate drain
Malfunctioning thermostats
Refrigerant leaks
Faulty electrical connections
But don't worry! Our team of experienced and licensed professionals at DASH is here to help with any issues you may experience with your HVAC system. We offer 24/7 emergency HVAC service in Little Rock, AR to get your system back up and running in no time. Plus, with our preventative maintenance programs, we can help you avoid these common issues and extend the life of your system.
What Does HVAC Maintenance Typically Include?
HVAC maintenance typically includes a thorough inspection and cleaning of your heating and cooling systems, checking and adjusting the thermostat settings, tightening electrical connections, lubricating moving parts, inspecting the condensate drain, and checking the system's safety controls.
By calling DASH for HVAC maintenance services in Little Rock, AR you'll help to keep your system running efficiently and reliably, and prevent unexpected issues.
How Often Should I Have My HVAC Unit Tuned-Up?
It is recommended to get your HVAC system tuned up at least once a year to keep it running efficiently and prevent breakdowns.
During a tune-up, an HVAC contractor will provide a comprehensive check-up of your heating and cooling system to identify any potential issues before they become major problems, as well as clean and lubricate the parts to keep everything running smoothly!
There are lots of good reasons to stay current with your HVAC tune-ups, and in Little Rock, our team members are on call to assist you with all of your heating and air conditioning needs!
No Credit Check Financing Option
No interest & no payments
for 60 months
Learn more
Priceless Peace Of Mind,
$15.95 A Month
Join the Dash Comfort Club and get all the perks of
membership:
Seasonal tune-ups.
Priority Scheduling.
100% satisfaction guaranteed.
Learn more
We're Your Local Home Service Experts

It's All Guaranteed
The Best Techs. The Friendliest Service.
For over 90 years, DASH has focused on customer satisfaction and exceptional service. We will do our best to continue with tradition to keep your best interest, and as always, we'll expect nothing short of 100% satisfaction, guaranteed.
Learn more about Us

Fast Response
Your calls are greeted by our in-house staff, who will schedule you for immediate service. Same-day service available for most emergencies so you never have to wait to get your problem under control.
Schedule Now

True Transparency Pricing
Most heating and air companies use industry-standard pricing, but DASH HEATING & COOLING® is different – that's why we offer DASH True Transparency Pricing. This new pricing structure provides you visibility into our costs of doing business, so you can continue to trust what you get from DASH.
Read more
Our Guarantees

All Techs Are Drug Tested & Undergo Background Checks

Our friendly team consists of highly-trained and respectful professionals, ensuring your home's safety and delivering exceptional service.

Pristine
Property Protection

We protect your home by wearing floor savers, using floor runners, and cleaning our work area.

NATE & EPA
Certification

Every DASH technician is up-to-date on their certifications. By doing so, they remain current with the safest and most effective industry practices.
Repair, Replacement & Maintenance - In Little Rock, DASH Is The Company To Call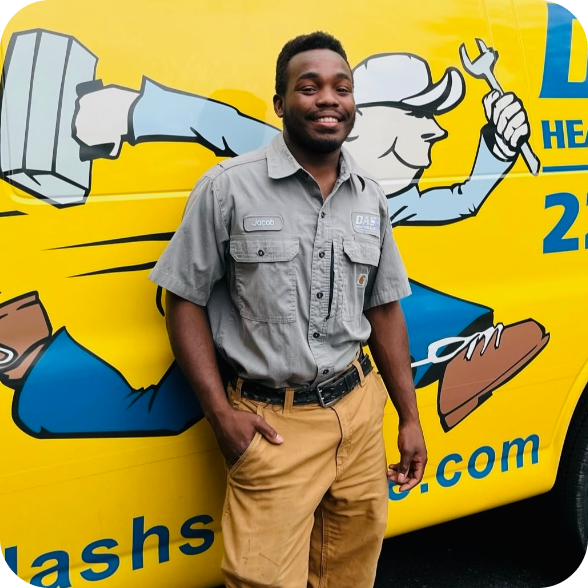 DASH Services Is Your Go-To Heating And Cooling Company In Little Rock
At DASH Heating & Cooling, we know the importance of having a properly functioning HVAC system, especially during the brutally cold winter months and the muggy, hot and humid summer months. DASH's licensed and certified team of premiere vetted technicians is available around the clock to handle any repair, replacement, or emergency. Our name is DASH for a reason, we are known and reputable for our speedy response to any situation, under any circumstance.
We're also committed to fair pricing, quality work, and employing the most knowledgeable HVAC contractors. In Little Rock, we believe that every person should find comfort in their home, regardless of what is in their bank account. By offering payment plans and financial repayment options, we hope that we can provide some level of comfort and be there in a DASH, to serve our community members in Central Arkansas.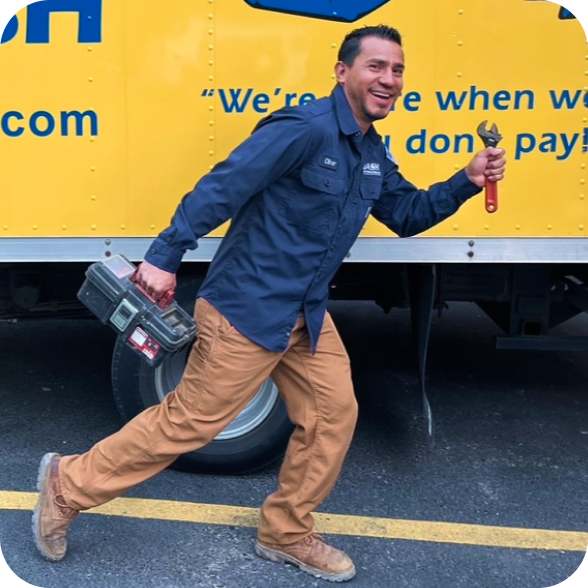 Need An Emergency HVAC Company In Little Rock? We'll Be There In A DASH To Assist You!
We offer emergency HVAC services in Little Rock and throughout Central Arkansas.
Give us a call immediately if you notice any of the following signs:
Unusual sounds, especially loud bangs or clicking sounds
Unusual odors that seem to permeate from the HVAC unit, especially a rotten egg odor, which can be a sign of a natural gas leak
Sparks coming from the unit
We on call for 24-hour HVAC service in Little Rock, and will be there in a DASH to make sure your family stays safe, warm, and comfortable.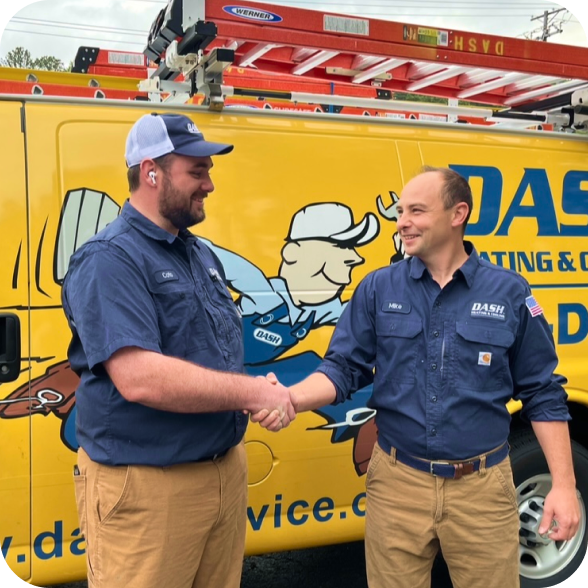 Reliable HVAC Maintenance Services
At DASH, our leading contractors in Little Rock suggest a full maintenance routine on your heating and cooling system at least once a year. During a normal routine maintenance visit, we will:
Clean all the system's elements, including all filters, coils and drains, and thermostats
Inspect the system to make sure all the components are operating functionally
Lubricate all parts of the system
We'll also give you some tips to help improve your HVAC system's energy efficiency. When you call us for residential HVAC services in Little Rock, our DASH team will make sure to leave your home even more comfortable than it was when we arrived.
Choose DASH For Home Comfort
We value our employees and customers and commit to always providing top-quality work and exceptional customer service. Our team of licensed and certified technicians has a wide, ranging variety of skill sets that can adapt to any situation. Efficiency is in our name DASH. We believe in quickly assessing your situation and resolving the problem as quickly as possible, and offer emergency services as well, for those times when you just can't wait.
We also offer the DASH Comfort Club, allowing you to save more money on emergency services, maintenance, repairs, and other services when you join. All in all, DASH is excited to help assist you in any way with your heating and cooling in Little Rock, AR.
Services Available In Little Rock, AR Area
Customer Reviews
We now will always call and refer you to others when we need heating or air conditioning service. I'm sorry we had air conditioning trouble but glad to say we found your business due to that misfortune. We now will always call and refer you to others when we need heating or air conditioning service. Thanks so much for the great people.
Thelma Tucker
Our experience with DASH has been exceptional. Their technicians are always professional and courteous. Our experience with DASH has been exceptional. Their technicians are always professional and courteous. DASH has been servicing our home for more than ten years, with both new equipment and seasonal maintenance. We continue to enjoy a comfortable home.
Traci
I now appreciate the value of having the club membership. I am pleased with how quickly you responded to and repaired our air conditioning unit. I now appreciate the value of having the club membership.
Bruce Wilson
Our service areas
DASH Proudly provides service to Central Arkansas, Hot Springs, And Surrounding Areas homeowners. With a century of experience, you can count on our knowledge and expertise to get the job done right!
Other Cities We Serve
Arkadelphia, AR
Benton, AR
Cabot, AR
Haskell, AR
Hot Springs Village, AR
Mayflower, AR
Roland, AR
Scott, AR
Sherwood, AR
North Little Rock, AR