Our Promotions
Common Questions About HVAC Repair In Malvern, Arkansas
What Should I Expect from a Heating and Air Conditioning Technician?
Whether you need residential or commercial service, you should expect your Malvern HVAC technician to be highly skilled and experienced with the three main HVAC domains: heating, air conditioning, and ventilation. Our Malvern HVAC service technicians provide a full range of heating and air conditioning solutions fit to meet the needs of each customer.
No job should be too big for an expert technician. Our HVAC service in Malvern includes a full range of offerings:
Cleaning and maintenance of residential or commercial HVAC systems
Installation, inspection, and testing
Maintenance recommendations
Repair or replacement of worn or broken parts
Discussing malfunctions and repairs with customers to ensure peace of mind
If you're looking for exceptional HVAC service in Malvern, look no further than Dash.
What Are the Most Common Issues Requiring HVAC Service in Malvern Homes?
When it comes to heating and cooling, some Malvern HVAC systems may experience different types of issues. In order to preserve the longevity of your Malvern home's HVAC system, it's important to gain an understanding of potential problems.
Some of the most common HVAC issues are:
Lack of regular maintenance
Unusual noises such as squealing or whining
Malfunctioning thermostat
Tripped breakers or blown electric fuses
Water leaks
Dirty filters, coils, or pilot
Don't wait before it's too late! Many of the most common heating and cooling problems can be avoided if your Malvern HVAC system is regularly serviced. Schedule your service call today.
How Frequently Should My Malvern HVAC System Be Inspected?
In order to maintain optimal heating and cooling in Malvern, your system may need more attention than expected. If comfort in your home or business is important to you, make sure to schedule an annual inspection.
You can drastically eliminate risk to your system by scheduling a regular inspection at least once a year, especially before harsh weather conditions. However, if you've noticed anything out of the ordinary, such as unusual smells or noises, schedule an inspection immediately.
For a full range of 24-hour HVAC services in Malvern, count on Dash for peace of mind.
Can I Do My Own HVAC Repair in Malvern?
If you want to ensure that your Malvern HVAC system can be repaired back to its best condition, it's crucial to hire a professional HVAC company. When Malvern's weather is at its harshest, why risk it?
With a professional HVAC company, you can eliminate potentially dangerous situations. On your own, it can be hard to tell whether you need a few simple repairs or a complete HVAC replacement. Our Malvern experts are ready to take away the guesswork.
For all things related to HVAC repair, our Malvern team is there to help. Save yourself the trouble, call us today!
Is hiring a Dash HVAC contractor in Malvern cost-efficient?
If finances are a concern, rest assured, we've got your back. With our True Transparency Pricing, there are no hidden fees or markups, and you only pay what we pay! And heating and air service for your Malvern home can also make it more energy efficient as well.
Plus, we offer special financing options and special rebates for larger purchases. To provide you with more money-saving perks, we even offer a 2-47 membership package where you can enjoy a full range of budget-friendly services. No strings attached.
Service calls may be daunting, but with Dash, our solutions for heating and air in Malvern are a piece of cake. If you're looking for expert service that won't hurt your wallet, look no further.
No Credit Check Financing Option
No interest & no payments
for 60 months
Learn more
Priceless Peace Of Mind,
$15.95 A Month
Join the Dash Comfort Club and get all the perks of
membership:
Seasonal tune-ups.
Priority Scheduling.
100% satisfaction guaranteed.
Learn more
We're Your Local Home Service Experts

It's All Guaranteed
The Best Techs. The Friendliest Service.
For over 90 years, DASH has focused on customer satisfaction and exceptional service. We will do our best to continue with tradition to keep your best interest, and as always, we'll expect nothing short of 100% satisfaction, guaranteed.
Learn more about Us

Fast Response
Your calls are greeted by our in-house staff, who will schedule you for immediate service. Same-day service available for most emergencies so you never have to wait to get your problem under control.
Schedule Now

True Transparency Pricing
Most heating and air companies use industry-standard pricing, but DASH HEATING & COOLING® is different – that's why we offer DASH True Transparency Pricing. This new pricing structure provides you visibility into our costs of doing business, so you can continue to trust what you get from DASH.
Read more
Our Guarantees

All Techs Are Drug Tested & Undergo Background Checks

Our friendly team consists of highly-trained and respectful professionals, ensuring your home's safety and delivering exceptional service.

Pristine
Property Protection

We protect your home by wearing floor savers, using floor runners, and cleaning our work area.

NATE & EPA
Certification

Every DASH technician is up-to-date on their certifications. By doing so, they remain current with the safest and most effective industry practices.
What To Expect From Our Expert HVAC Contractors In Malvern
When you enlist Dash for your HVAC repair in Malvern, you can be sure that we'll provide the most professional and punctual service available. You don't pay a dime if we aren't on time! No joke, if we don't show up within 2 hours of your scheduled service, it's free of charge.
We'll also share our knowledge and make our best recommendations to ensure your HVAC system is running and in good working order all year. Our HVAC experts will answer any questions you may have, and once we've fixed the problem, we guarantee 100% customer satisfaction.
The Best Choice For Heating And Cooling In Malvern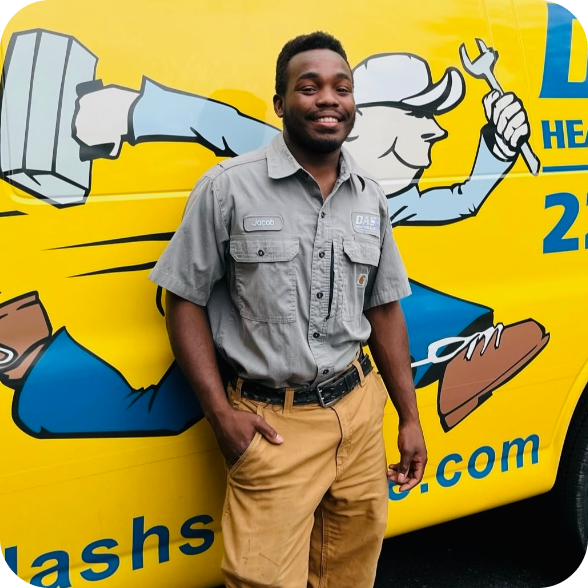 Friendliness And Integrity
We understand how difficult it can be to understand the world of HVAC systems. That's why we'll take the steps to be transparent with our customers on every job.
For example, if you aren't sure why you might need an HVAC replacement, our Malvern technicians will share everything they can to ensure your peace of mind before we provide you with a new HVAC installation. All Malvern technicians are highly trained and qualified, and they won't leave the job until it's done right.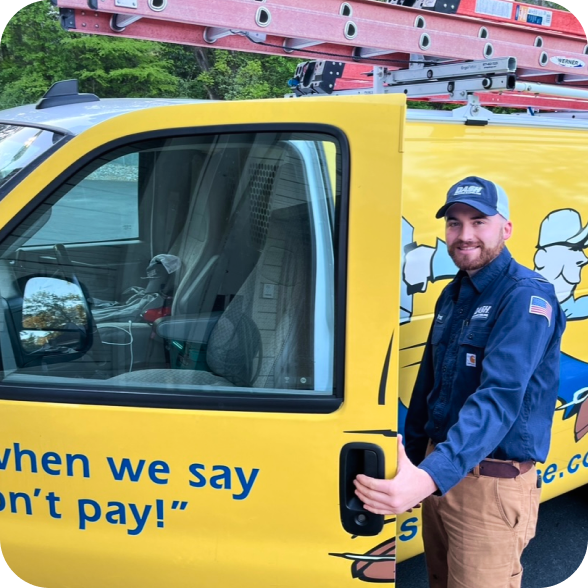 24-Hour Emergency Availability
Whether you're in an emergency, just looking for a new air conditioning or heating unit, or simply in need of a quick HVAC tune up, our team is available 24-hours a day for all of your heating and air needs. Malvern customers can confidently place their needs in our hands at any time, day or night.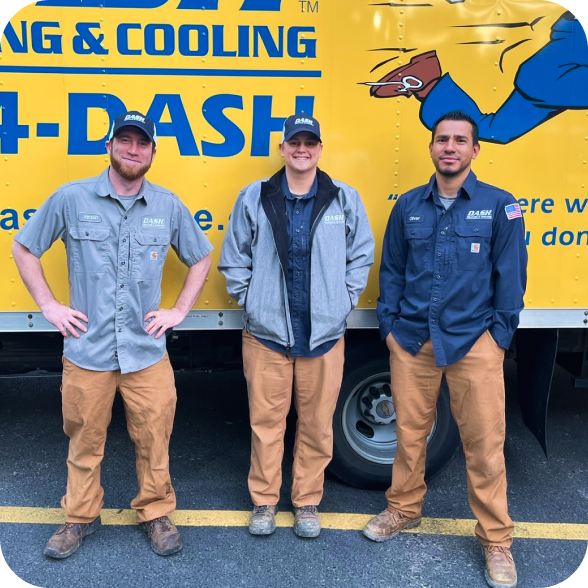 A Full Range Of HVAC Services In Malvern
DASH Heating & Cooling has been locally owned and operated out of Little Rock, Arkansas, for over 90 years. For decades, we've been offering a robust list of HVAC services for Malvern home and business owners. HVAC system repair? Check. A/C installation? Check. Thermostat calibration? Check.
All of our technicians are highly trained, friendly, and knowledgeable. Plus, we strive to provide the best customer service we can, and we've received hundreds of 5-star ratings for our exceptional services.
Our solutions for heating and cooling in Malvern are endless. You name it, and we can do it. For all of your HVAC questions or needs, just call Dash. We're standing by.
Services Available In Malvern, AR Area
Customer Reviews
We now will always call and refer you to others when we need heating or air conditioning service. I'm sorry we had air conditioning trouble but glad to say we found your business due to that misfortune. We now will always call and refer you to others when we need heating or air conditioning service. Thanks so much for the great people.
Thelma Tucker
Our experience with DASH has been exceptional. Their technicians are always professional and courteous. Our experience with DASH has been exceptional. Their technicians are always professional and courteous. DASH has been servicing our home for more than ten years, with both new equipment and seasonal maintenance. We continue to enjoy a comfortable home.
Traci
I now appreciate the value of having the club membership. I am pleased with how quickly you responded to and repaired our air conditioning unit. I now appreciate the value of having the club membership.
Bruce Wilson
Our service areas
DASH Proudly provides service to Central Arkansas, Hot Springs, And Surrounding Areas homeowners. With a century of experience, you can count on our knowledge and expertise to get the job done right!
Other Cities We Serve
Arkadelphia, AR
Benton, AR
Cabot, AR
Haskell, AR
Hot Springs Village, AR
Mayflower, AR
Roland, AR
Scott, AR
Sherwood, AR
North Little Rock, AR