Promotions & Specials
Air Conditioner Services in Conway: FAQ
How often should I schedule AC maintenance for my Conway home?
To optimize your system's performance and lifespan, regular AC maintenance is crucial. Our comprehensive air conditioner maintenance services include inspections, cleaning, lubrication, and tune-ups to prevent issues, enhance energy efficiency, and maintain air quality. Our skilled technicians will assess and address any problems, ensuring your AC runs smoothly. Schedule your air conditioning maintenance service with Dash and enjoy a comfortable and worry-free home!
What are the signs that my AC system needs repair or replacement?
Signs that should consider air conditioner replacement or repair include warm air, a malfunctioning thermostat, weak airflow from vents, loud noises, strange odors, insufficient humidity removal, frequent need of air conditioning maintenance, leaks, high electric bills, or an aged unit. Consult a professional technician for assistance; in some cases AC replacement could be a better option than fixing. Dash's AC services in Conway ensure prompt resolution of these issues for optimal cooling performance in your home.
Can you help me choose the right AC system for my specific needs and budget?
Certainly! At Dash, we recognize the importance of selecting the perfect system to match your air conditioning installation needs and budget. Our experienced team is here to help you create a personalized plan that fits your requirements, financial situation, and available space. We consider factors like the size of your space, your cooling preferences, energy efficiency targets, and budget constraints to suggest the perfect air conditioner installation for your Conway home.
Rely on Dash's expertise to navigate the selection process and receive tailored recommendations for a system that ensures your comfort while minimizing air conditioning maintenance needs and maximizing efficiency.
Are there any energy-efficient options for AC systems available in Conway?
When it comes to energy-efficient air conditioner installation, Dash has you covered. Our expert guidance helps you choose the right-sized unit, utilize programmable settings, and select models with high EER and SEER ratings and ENERGY STAR® certification. We'll help you explore smart options and understand the EnergyGuide label for effective comparison.
We prioritize your satisfaction by delivering optimal performance, energy savings, and the perfect air conditioning installation or air conditioner replacement for your needs and budget. Contact us for personalized service!
No Credit Check Financing Option
No interest & no payments
for 60 months
Learn more
Priceless Peace Of Mind,
$15.95 A Month
Join the Dash Comfort Club and get all the perks of
membership:
Seasonal tune-ups.
Priority Scheduling.
100% satisfaction guaranteed.
Learn more
We're Your Local Home Service Experts

It's All Guaranteed
The Best Techs. The Friendliest Service.
For over 90 years, DASH has focused on customer satisfaction and exceptional service. We will do our best to continue with tradition to keep your best interest, and as always, we'll expect nothing short of 100% satisfaction, guaranteed.
Learn more about Us

Fast Response
Your calls are greeted by our in-house staff, who will schedule you for immediate service. Same-day service available for most emergencies so you never have to wait to get your problem under control.
Schedule Now

True Transparency Pricing
Most heating and air companies use industry-standard pricing, but DASH HEATING & COOLING® is different – that's why we offer DASH True Transparency Pricing. This new pricing structure provides you visibility into our costs of doing business, so you can continue to trust what you get from DASH.
Read more
Our Guarantees

All Techs Are Drug Tested & Undergo Background Checks

Our friendly team consists of highly-trained and respectful professionals, ensuring your home's safety and delivering exceptional service.

Pristine
Property Protection

We protect your home by wearing floor savers, using floor runners, and cleaning our work area.

NATE & EPA
Certification

Every DASH technician is up-to-date on their certifications. By doing so, they remain current with the safest and most effective industry practices.
Professional AC Installation for Your Comfort
In Conway, Dash is the go-to professional air conditioner installation and air conditioning replacement services, ensuring optimal cooling performance for your home.
Proper AC installation is crucial for efficient and effective cooling. With our expertise in air conditioning services, we consider your home's size, existing ductwork, and cooling needs to recommend the most suitable AC system, one that doesn't require heavy air conditioner maintenance service, beyond the yearly AC tune-up. Our friendly technicians provide transparent communication, addressing your questions and offering expert advice.
We understand Conway's climate and cooling requirements; our skilled technicians are trained to perform seamless central air conditioning installations and effective ductless air conditioner replacement for maximum efficiency.
Experience the difference with professional AC installation by Dash; contact us today for tailored AC services!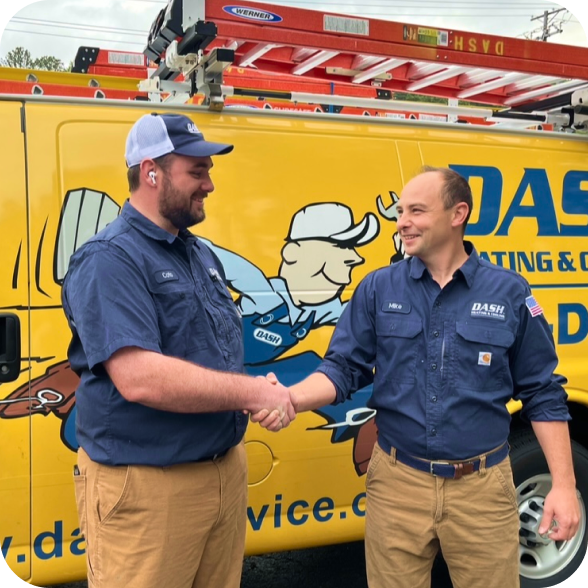 Reliable and Efficient AC Replacement Solutions
Dash's skilled technicians are here to provide efficient and effective AC replacement services. Whereas it's time to renew your unit or you're tired of dealing with other inefficient air conditioner services, we provide efficient and effective solutions.
Replacing your AC improves cooling performance, enhances energy efficiency, and reduces utility costs. Rest assured, our experienced contractors will assess your current system and provide AC replacement services based on your needs, budget, and energy-efficient technologies, to ensure long-term satisfaction.
If you are looking for reliable AC services in Conway, contact Dash today to bring comfort and energy savings to your home through high-end AC replacement!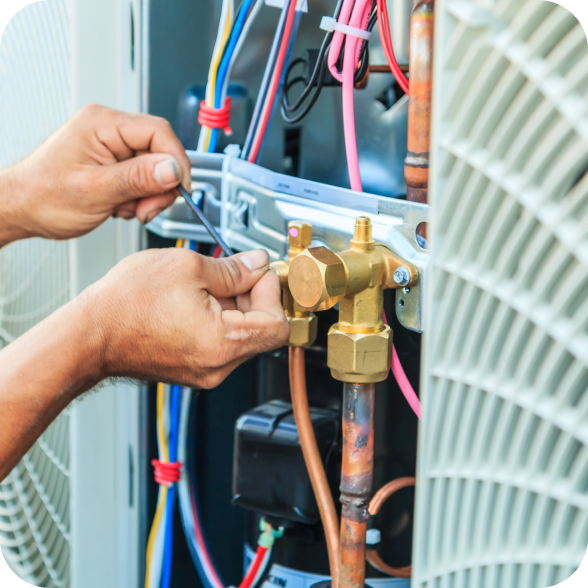 Effective AC Maintenance and Tune-Up Services
Regular AC maintenance is essential for extending the lifespan of your system. That's why Dash offers comprehensive air conditioning maintenance and AC tune-up services in Conway to keep your unit running smoothly.
With our AC maintenance services, you will enjoy improved comfort, lower energy costs, and peace of mind. Our tailored solutions encompass both central air conditioner tune-ups and ductless AC tune-ups.
Still doubting? Call Dash for effective air conditioning services. Whether you need regular air conditioning maintenance or targeted central air conditioner tune-up, we'll help maximize your system's lifespan!
Our Customer-Focused Approach and True Transparency Pricing
At Dash, customer satisfaction is our priority. With our True Transparency Pricing, you know exactly what you're paying for!
We provide fair and honest pricing for every service, from central air conditioning installations to AC tune-ups, without hidden charges or fees. For repairs or minor tasks, pricing is $205 plus parts. Major AC installations or repairs are $599 plus parts.
Here, 85% of our air conditioning services are typically performed at $205, on average, plus the cost of parts. If we are already at your home, parts are available for $99. We are committed to providing fair and competitive pricing without overcharging
We offer free evaluations for air conditioner services, waived service fees, and a Dash Comfort Club Membership for additional air conditioner maintenance benefits. Trust us for transparent pricing and peace of mind with your AC services in Conway!
Dash's AC Services Are Ready to Assist You in Conway!
We are your reliable choice for all your air conditioner services, including AC installation, air conditioner replacement, and air conditioning maintenance, with flexible scheduling options to accommodate your busy lifestyle.
We also provide emergency AC services to address urgent issues that may arise with your cooling system. From emergency air conditioning replacement to routinary air conditioner maintenance, our team is available to respond promptly and efficiently, providing the necessary solutions to restore comfort to your home.
With our dedication to customer satisfaction, professional expertise, and commitment to transparency, Dash is the trusted choice for all your Conway's air conditioning services.
Contact us today to schedule an air conditioner installation appointment and upgrade to your home's comfort!
Customer Reviews
We now will always call and refer you to others when we need heating or air conditioning service. I'm sorry we had air conditioning trouble but glad to say we found your business due to that misfortune. We now will always call and refer you to others when we need heating or air conditioning service. Thanks so much for the great people.
Thelma Tucker
Our experience with DASH has been exceptional. Their technicians are always professional and courteous. Our experience with DASH has been exceptional. Their technicians are always professional and courteous. DASH has been servicing our home for more than ten years, with both new equipment and seasonal maintenance. We continue to enjoy a comfortable home.
Traci
I now appreciate the value of having the club membership. I am pleased with how quickly you responded to and repaired our air conditioning unit. I now appreciate the value of having the club membership.
Bruce Wilson
Our service areas
DASH Proudly provides service to Central Arkansas, Hot Springs, And Surrounding Areas homeowners. With a century of experience, you can count on our knowledge and expertise to get the job done right!
Other Cities We Serve
Arkadelphia, AR
Benton, AR
Cabot, AR
Haskell, AR
Hot Springs Village, AR
Mayflower, AR
Roland, AR
Scott, AR
Sherwood, AR
North Little Rock, AR