Our Promotions
Hot Springs Air Conditioning Service: FAQs
What Should I Do if My Air Conditioner is Running But is Blowing Hot Air?
If you notice that your AC unit is blowing hot air, there are a few steps you can take to diagnose the problem on its own - check your breaker switch, make sure the filter has been cleaned, and if you have an outdoor unit, clear any debris such as leaves or brush that may be blocking the fan.
Of course, there could be any other number of reasons that your AC unit is blowing hot air, so if you are still having issues, reach out to a trusted AC contractor in Hot Springs to help you get your cool air flowing again in no time!
How Often Should I Schedule Air Conditioning Maintenance?
In Hot Springs, temperatures in the summer can be scorching and you don't want to find yourself with a malfunctioning air conditioner. That's why our AC service pros recommend having your cooling system inspected at least once per year, preferably before the hottest months arrive.
When you ask for AC services, an air conditioning contractor will be able to tell you if anything needs further service. If there's indeed something to fix, then it's important that you have a reliable company to call for air conditioner services here in Hot Springs, so call DASH!
How Long Does an Air Conditioning System Last?
It will depend on the type of air conditioner you have, but generally, an air conditioner unit will last 10-15 years with proper AC maintenance. If you have concerns about your unit and think it's time for an AC replacement or any other AC services for your Hot Springs home, one of our expert contractors can help you get started on finding the right unit for your home.
How Do I Know If I Need a New Air Conditioner?
In Hot Springs, an air conditioner services provider can help you navigate any issues with your cooling system. They'll be able to tell you if the issue you're having can be easily fixed or if it's better to replace your unit. A good rule of thumb is that fixing it costs 50% or more than a new unit, then it's better to purchase a new one.
What's most important is that your home becomes more comfortable with a functioning unit, because we know how hot it can get in Hot Springs. So if you're looking for air conditioner service or replacement, let a qualified AC installation contractor help you through the process. Call DASH today!
Can I Install a New Air Conditioning Unit Myself?
For your safety and the safety of your family, it's highly recommended that a professional do most AC services work to ensure your unit is properly installed. Between ductwork and electrical wires, the process can be unsafe for someone that is not familiar with cooling system technology. It's best to work with an AC contractor from a licensed and experienced air conditioner service company.
A well-installed unit will also offer improved energy efficiency and indoor air quality, so it's important to work with a trusted and licensed AC services provider. When you're ready for a new AC unit installation, in Hot Springs, ask your air conditioning contractor for a clear picture of the work involved so you know exactly what to expect.
No Credit Check Financing Option
No interest & no payments
for 60 months
Learn more
Priceless Peace Of Mind,
$15.95 A Month
Join the Dash Comfort Club and get all the perks of
membership:
Seasonal tune-ups.
Priority Scheduling.
100% satisfaction guaranteed.
Learn more
We're Your Local Home Service Experts

It's All Guaranteed
The Best Techs. The Friendliest Service.
For over 90 years, DASH has focused on customer satisfaction and exceptional service. We will do our best to continue with tradition to keep your best interest, and as always, we'll expect nothing short of 100% satisfaction, guaranteed.
Learn more about Us

Fast Response
Your calls are greeted by our in-house staff, who will schedule you for immediate service. Same-day service available for most emergencies so you never have to wait to get your problem under control.
Schedule Now

True Transparency Pricing
Most heating and air companies use industry-standard pricing, but DASH HEATING & COOLING® is different – that's why we offer DASH True Transparency Pricing. This new pricing structure provides you visibility into our costs of doing business, so you can continue to trust what you get from DASH.
Read more
Our Guarantees

All Techs Are Drug Tested & Undergo Background Checks

Our friendly team consists of highly-trained and respectful professionals, ensuring your home's safety and delivering exceptional service.

Pristine
Property Protection

We protect your home by wearing floor savers, using floor runners, and cleaning our work area.

NATE & EPA
Certification

Every DASH technician is up-to-date on their certifications. By doing so, they remain current with the safest and most effective industry practices.
Your Guide to Air Conditioner Services in Hot Springs
A well-maintained air conditioner can help keep your home cool, even when the temperature reaches extreme highs. To keep your air conditioner unit in tip-top shape:
Replace filters regularly: Dirty air filters can reduce airflow and cause your system to overload, leading to high energy bills
Clean your outdoor unit: Dirt buildup can put pressure on your AC unit, decreasing its lifespan
Seal air leaks: Leaky ductwork can waste as much as a ⅓ of your AC's energy
Install a programmable temperature controller: This saves energy and can prolong the life of your system
Proper air conditioning maintenance is vital to keep things running smoothly and avoid early AC replacement. A seasoned AC contractor can help with all your needs, even central air conditioning installation in your Hot Springs home is a cinch with a team of experienced experts.
Remember, when the weather gets hot, make sure you're not left unprepared and call DASH for air conditioning services in Hot Springs, AR.
What You'll Get With DASH, Your Local Air Conditioning Services Experts In Hot Springs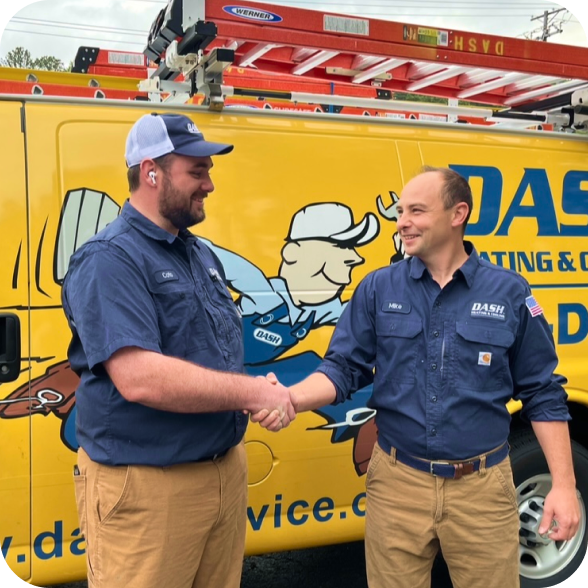 Quality Maintenance
At Dash, we've been one of the go-to AC maintenance companies in Hot Springs for decades, providing top-notch solutions for common air conditioning problems to local homeowners. Our goal is to ensure that your system operates at peak performance and efficiency. Regular preventive air conditioning maintenance service from a certified AC contractor is essential to avoid costly replacements in the future.
If you notice any signs of underperformance in your AC unit, whether it's a small leak or a slightly frozen coil, a friendly Dash air conditioning contractor will be happy to guide you through the process of proper air conditioning maintenance. Our air conditioning service pros will take the time to address your concerns and ensure that your system receives the care it needs.
Whether you need preventive AC maintenance or your unit's yearly tune-up, you can rely on Dash to help you keep your home cool, delay air conditioning replacement, and save money on energy bills. Just give us a call for AC services in Hot Springs, and we will promptly arrive at your doorstep.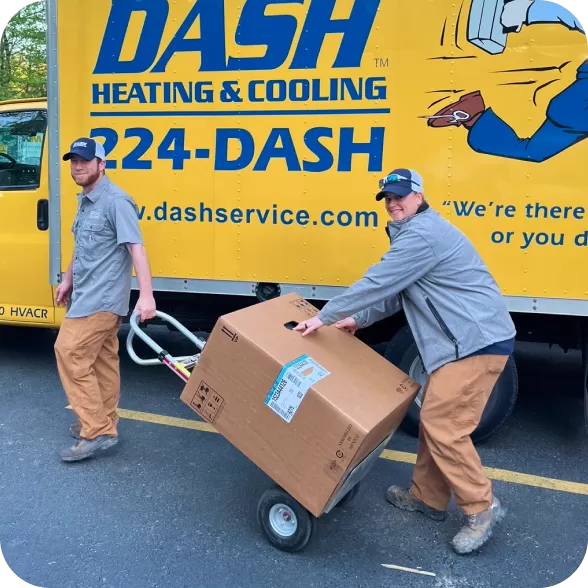 Top-notch Residential & Commercial Air Conditioning Installation
Here in Hot Springs, we like to think of getting a new air conditioner as the start of something wonderful. With the help of a reliable AC installation contractor, you can replace your old, dusty unit with a new sparkly one that promises to keep your home more comfortable in the hottest months.
We handle all AC unit installations throughout Hot Springs and surrounding areas, including both residential and commercial, so whether you're installing a central or ductless AC, our Hot Springs air conditioner services team is ready to help with your AC installation.
Finally, if you're ready for a new unit, you can trust in our True Transparency Pricing policy for all AC Services. When you call DASH for an air conditioning installation estimate in Hot Springs, what we tell you is what you'll get - no hidden fees, guaranteed.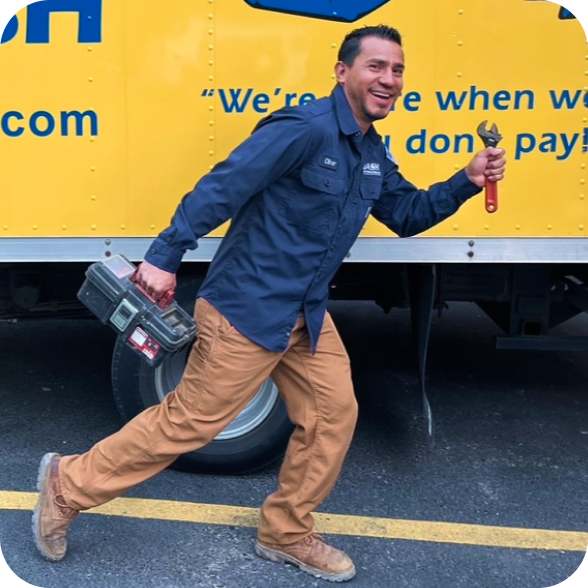 Excellence. Experience. Quality.
DASH is a family-run air conditioning services company that's been in business since before your granny was born. We're knowledgeable, friendly, and know how to keep our customers happy. When you give us a call for AC maintenance or service in Hot Springs, we'll send a member of our team over to inspect any issues you have. And, if we say we're gonna be there at a certain time, we're there - guaranteed. If for some reason we don't make it within a two-hour window, you don't pay the AC services charge!
When it comes to all air conditioning services, including AC replacement, maintenance, inspection, sales, or installation, we'll make sure your Hot Springs home is well taken care of. If you want air conditioner service, advice, and expertise, our line is always open, anytime, 24 hours a day.
AC services for Hot Springs homeowners shouldn't be complicated. So next time you need any type of air conditioning services, including AC unit installation or replacement, here in Hot Springs give DASH a try. And if you do, we bet you'll never try another company's air conditioner services!
All Of Our Cooling & Heating Services In Hot Springs
Customer Reviews
We now will always call and refer you to others when we need heating or air conditioning service. I'm sorry we had air conditioning trouble but glad to say we found your business due to that misfortune. We now will always call and refer you to others when we need heating or air conditioning service. Thanks so much for the great people.
Thelma Tucker
Our experience with DASH has been exceptional. Their technicians are always professional and courteous. Our experience with DASH has been exceptional. Their technicians are always professional and courteous. DASH has been servicing our home for more than ten years, with both new equipment and seasonal maintenance. We continue to enjoy a comfortable home.
Traci
I now appreciate the value of having the club membership. I am pleased with how quickly you responded to and repaired our air conditioning unit. I now appreciate the value of having the club membership.
Bruce Wilson
Our service areas
DASH Proudly provides service to Central Arkansas, Hot Springs, And Surrounding Areas homeowners. With a century of experience, you can count on our knowledge and expertise to get the job done right!
Other Cities We Serve
Arkadelphia, AR
Benton, AR
Cabot, AR
Haskell, AR
Hot Springs Village, AR
Mayflower, AR
Roland, AR
Scott, AR
Sherwood, AR
North Little Rock, AR