Promotions & Specials
Air Conditioning Repair in Hot Springs: FAQs
Why isn't my air conditioner cooling?
An air conditioner might stop cooling due to numerous reasons. For instance, the refrigerant could be low or the evaporator coils might be frozen. If you're in Hot Springs or the surrounding areas, we offer AC unit repair service and will diagnose and address such issues efficiently, making your home more comfortable once again.
What are the signs that my AC unit needs to be repaired?
Typical indicators include unusual noises, foul odors, or your cooling system not cooling as it should. Increased energy bills can also hint at a problem, indicating decreased energy efficiency. For peace of mind, it's wise to have a professional air conditioning repair technician inspect your unit.
What factors should I take into account when choosing an AC repair company?
When choosing among AC repair companies in Hot Springs, consider experience, fair pricing, availability, and commitment to customer satisfaction. The company should also employ fully licensed, trained technicians who are familiar with servicing all types of commercial and residential air conditioning systems.
What can I expect when I call DASH for emergency AC repair?
Emergency AC repair service is designed to address sudden failures of your air conditioning system. You can expect quick response times, competent diagnosis, and prompt repair. At DASH, we offer 24/7 AC service in Hot Springs and have team members standing by to take your call, day or night.
Can I repair my air conditioner myself?
While it's good to take proper care of your air conditioner throughout the season when it comes time to repair your AC, it is best left to professionals to ensure safety and proper handling. A professional AC service provider like DASH ensures your air conditioning repair is done right, preventing potential damage and preserving the longevity of your unit.
No Credit Check Financing Option
No interest & no payments
for 60 months
Learn more
Priceless Peace Of Mind,
$15.95 A Month
Join the Dash Comfort Club and get all the perks of
membership:
Seasonal tune-ups.
Priority Scheduling.
100% satisfaction guaranteed.
Learn more
We're Your Local Home Service Experts
It's All Guaranteed
The Best Techs. The Friendliest Service.
For over 90 years, DASH has focused on customer satisfaction and exceptional service. We will do our best to continue with tradition to keep your best interest, and as always, we'll expect nothing short of 100% satisfaction, guaranteed.
Learn more about Us
Fast Response
Your calls are greeted by our in-house staff, who will schedule you for immediate service. Same-day service available for most emergencies so you never have to wait to get your problem under control.
Schedule Now
True Transparency Pricing
Most heating and air companies use industry-standard pricing, but DASH HEATING & COOLING® is different – that's why we offer DASH True Transparency Pricing. This new pricing structure provides you visibility into our costs of doing business, so you can continue to trust what you get from DASH.
Read more
Our Guarantees

All Techs Are Drug Tested & Undergo Background Checks

Our friendly team consists of highly-trained and respectful professionals, ensuring your home's safety and delivering exceptional service.

Pristine
Property Protection

We protect your home by wearing floor savers, using floor runners, and cleaning our work area.

NATE & EPA
Certification

Every DASH technician is up-to-date on their certifications. By doing so, they remain current with the safest and most effective industry practices.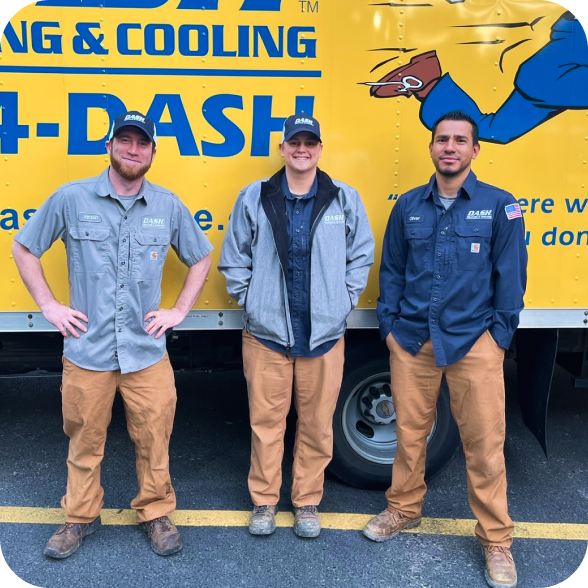 Why Hot Springs Chooses DASH for AC Repair
With over 90 years of experience, DASH is your go-to company for reliable air conditioning repair, especially during the sweltering Arkansas summer. We believe in providing efficient, friendly AC service that never compromises on quality.
When your cooling system needs attention, you deserve an AC service company you can rely on. Our promise is simple: "We're there when we say, or you don't pay!" We value your time and always strive to be punctual for scheduled air conditioning service calls.
As a proud Better Business Bureau-accredited business for AC unit repair, we also uphold the highest standards of integrity and ethical service. That's why we offer our unique True Transparency Pricing, providing you with an upfront and honest estimate before any work begins and backing up our work with a 100% satisfaction guarantee.
When it comes to choosing among AC repair companies, the folks in Hot Springs trust DASH. We're not just an air conditioning service provider; we're a part of the community, and we care.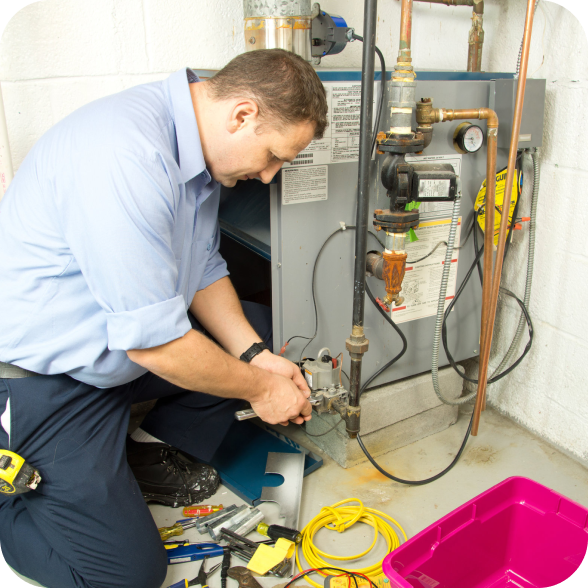 Our Comprehensive AC Repair Service: What to Expect
At DASH, we take pride in providing comprehensive AC repair service, prioritizing your comfort and peace of mind.
Our skilled technicians begin by conducting a thorough diagnosis to accurately identify the issue, ensuring we address the root cause.
Once we've detected the problem, we take the time to explain the needed air conditioning repair in a transparent and detailed manner. We won't start any work until you fully understand the repair process and agree to the proposed solution. Rest assured, we provide detailed pricing upfront, so there are no surprises.
After the AC service is complete, our licensed technicians will offer expert advice on how to maintain optimal performance for your system.
Whether you require a quick fix or a more complex air conditioning repair, you can rely on us. Our commitment to delivering quality work and service is what sets us apart from other AC repair companies in the Hot Springs area.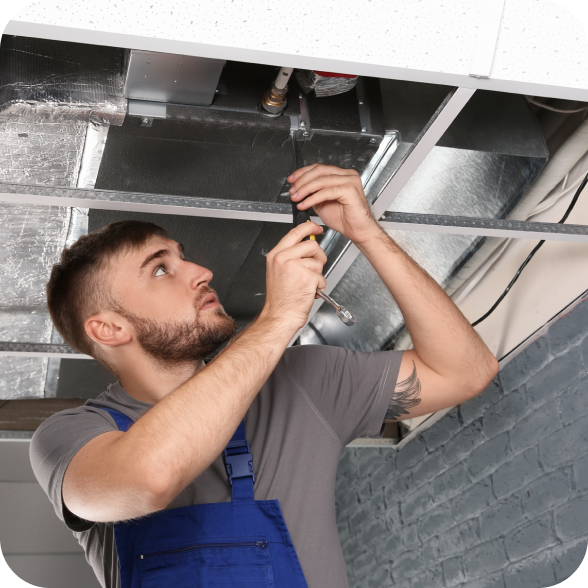 Helping You Solve Common AC Problems
Here in Hot Springs, our warm summer climate can take a toll on air conditioning systems. Luckily, at DASH we have decades of expertise in quickly and effectively addressing common AC problems, including:
Inconsistent cooling: It can be frustrating when certain areas of your home are less comfortable than others. Our technicians provide expert advice and solutions to improve the overall energy efficiency of your cooling system, ensuring consistent comfort throughout your home.
Abnormal noises: If your AC unit is making unusual sounds, it's a sign that something may be amiss. Our thorough AC unit repair technicians will ensure that your system runs smoothly, restoring peace and quiet to your home.
Overworked AC systems: The local climate can put a strain on AC units, leading to unexpected breakdowns. With our 24-hour AC repair service, we're always prepared to respond to these emergencies promptly and efficiently.
Refrigerant leaks: Leaking refrigerant can hinder your AC system's performance. Our skilled team at DASH specializes in identifying and repairing these leaks, ensuring that your system efficiently cools your home.
24-Hour AC Repair Service in Hot Springs: We're There When We Say!
When your air conditioner acts up in the middle of the night, it calls for repair as soon as possible. That's why we offer 24-hour emergency AC repair service in Hot Springs, ready to help whenever you face a cooling crisis.
We operate with a two-hour window for every air conditioning service call. When your AC unit needs repair, there's no time to waste, as emergencies don't adhere to regular business hours. So, whether it's the crack of dawn or midnight, you can trust that we will be there to provide expert AC repair service in no time.
What's more, if we're not at your place within that two-hour window, the service call fee is on us!
Your Trusted Partner for AC Unit Repair
At DASH, we have built a solid reputation as leaders in air conditioning repair by prioritizing professionalism, integrity, and quality work.
Every AC service call is an opportunity for us to demonstrate our dedication to you and the energy efficiency of your cooling system. When you have an issue, we'll be there right away to help, even when it's an emergency in the middle of the night. As our motto goes: "We'll be there when we say, or you don't pay!"
In addition, our Comfort Club membership offers savings and convenience when it comes to keeping your cooling system in tip-top shape. Members enjoy exclusive discounts on air conditioning repair, ensuring they receive the best value for their investment.
Hot Springs homeowners deserve the best that AC repair companies can offer. That's where DASH comes in. We don't just offer superior air conditioning repair services; we provide a promise of comfort, available 24 hours a day!
Services Available In Hot Springs, AR
Customer Reviews
We now will always call and refer you to others when we need heating or air conditioning service. I'm sorry we had air conditioning trouble but glad to say we found your business due to that misfortune. We now will always call and refer you to others when we need heating or air conditioning service. Thanks so much for the great people.
Thelma Tucker
Our experience with DASH has been exceptional. Their technicians are always professional and courteous. Our experience with DASH has been exceptional. Their technicians are always professional and courteous. DASH has been servicing our home for more than ten years, with both new equipment and seasonal maintenance. We continue to enjoy a comfortable home.
Traci
I now appreciate the value of having the club membership. I am pleased with how quickly you responded to and repaired our air conditioning unit. I now appreciate the value of having the club membership.
Bruce Wilson
Our service areas
DASH Proudly provides service to Central Arkansas, Hot Springs, And Surrounding Areas homeowners. With a century of experience, you can count on our knowledge and expertise to get the job done right!
Other Cities We Serve
Arkadelphia, AR
Benton, AR
Cabot, AR
Haskell, AR
Hot Springs Village, AR
Mayflower, AR
Roland, AR
Scott, AR
Sherwood, AR
North Little Rock, AR