Our Promotions
Common Questions About HVAC Repair & Service In Hot Springs
What HVAC services do you offer in Hot Springs?
Dash offers comprehensive HVAC services, including repair, installation, replacement, and maintenance for residential properties.
Do you provide 24-Hour HVAC Repair in Hot Springs?
Yes, we offer 24-hour emergency HVAC services in Hot Springs, AR, for all of your unexpected breakdowns or urgent repair needs. No matter what your HVAC unit needs, no matter what time of day, we'll be there for a service call in a DASH!
How do I know if my HVAC system needs repair or replacement?
Signs such as frequent breakdowns, higher energy bills, strange noises, and cracks or leaks may indicate a need for HVAC system repair or replacement. If you notice any of these issues with your HVAC system, it's best to give a professional a call.
What makes DASH Heating & Cooling different from other heating and air conditioning companies in Hot Springs?
DASH Heating & Cooling has over 91 years of experience providing HVAC Service to Hot Springs and the surrounding area. We also offer a two-hour service window, true transparency pricing, full commitment to customer satisfaction, and a little bit of southern charm to boot.
Do you provide financing options for HVAC replacement or repair services?
Yes, as one of the premier heating and cooling companies in the Hot Springs area, DASH is proud to offer financing options for all of our customers. We also stay on top of all available government rebates to help make your need for HVAC services as affordable as possible.
How often should I get my HVAC system maintained?
We recommend getting your HVAC system serviced twice a year to ensure optimal performance, energy efficiency, and longevity. This will also ensure that everything continues to run smoothly for your heating and air conditioning in your Hot Springs home.
No Credit Check Financing Option
No interest & no payments
for 60 months
Learn more
Priceless Peace Of Mind,
$15.95 A Month
Join the Dash Comfort Club and get all the perks of
membership:
Seasonal tune-ups.
Priority Scheduling.
100% satisfaction guaranteed.
Learn more
We're Your Local Home Service Experts

It's All Guaranteed
The Best Techs. The Friendliest Service.
For over 90 years, DASH has focused on customer satisfaction and exceptional service. We will do our best to continue with tradition to keep your best interest, and as always, we'll expect nothing short of 100% satisfaction, guaranteed.
Learn more about Us

Fast Response
Your calls are greeted by our in-house staff, who will schedule you for immediate service. Same-day service available for most emergencies so you never have to wait to get your problem under control.
Schedule Now

True Transparency Pricing
Most heating and air companies use industry-standard pricing, but DASH HEATING & COOLING® is different – that's why we offer DASH True Transparency Pricing. This new pricing structure provides you visibility into our costs of doing business, so you can continue to trust what you get from DASH.
Read more
Our Guarantees

All Techs Are Drug Tested & Undergo Background Checks

Our friendly team consists of highly-trained and respectful professionals, ensuring your home's safety and delivering exceptional service.

Pristine
Property Protection

We protect your home by wearing floor savers, using floor runners, and cleaning our work area.

NATE & EPA
Certification

Every DASH technician is up-to-date on their certifications. By doing so, they remain current with the safest and most effective industry practices.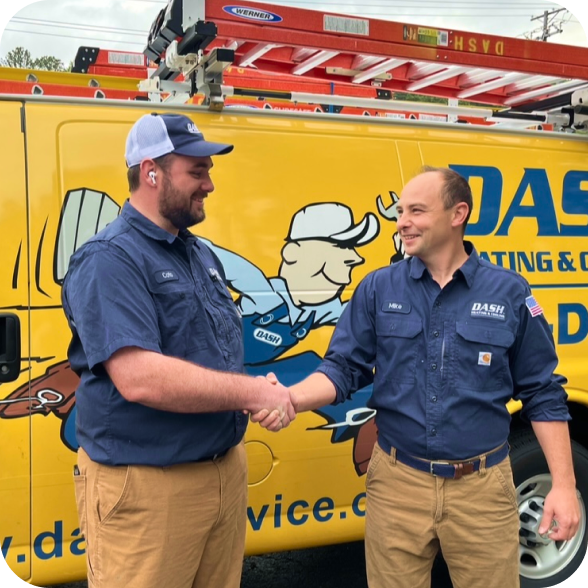 What To Expect From Your HVAC Service In Hot Springs, Arkansas
On the day of your HVAC service appointment with DASH, you can expect a prompt and courteous arrival from one of our expert technicians. Our team members prioritize the customer on every service call, making sure they fully understand the work that's being done on their home or business. We pride ourselves on being locally owned and operated, and we take the time to get to know our customers and their unique HVAC needs.
Our technicians will perform a thorough inspection of your HVAC unit to identify any issues and make necessary repairs or replacements. We offer a variety of HVAC services, including emergency repairs, tune-ups, maintenance, and replacement of residential HVAC systems. With our True Transparency Pricing policy, we ensure that there are no hidden fees, so you can trust that you're getting fair and honest pricing for our services.
We understand that HVAC issues can be stressful, especially in emergency situations. That's why we offer 24/7 emergency HVAC services, so you can count on us to be there when you need us most. Our team members are highly qualified and experienced, and we take pride in our expertise and unique perspectives. Whether you need a simple repair or a full replacement, you can trust us to provide expert advice and quality service.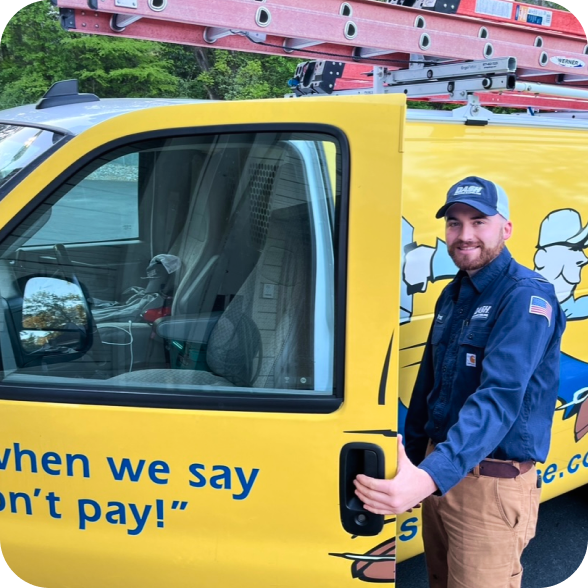 24-Hour HVAC Repair For Your Hot Springs Home
DASH's team of experienced technicians are available 24/7 to address any HVAC emergencies, from air conditioning breakdowns to furnace malfunctions. They will work diligently to diagnose the issue and offer effective solutions to get your system up and running again.
With DASH's emergency HVAC services, you can rest assured that you won't have to suffer through uncomfortable temperatures for long. Contact DASH immediately for any HVAC emergencies, and their team will be on their way to provide the help you need.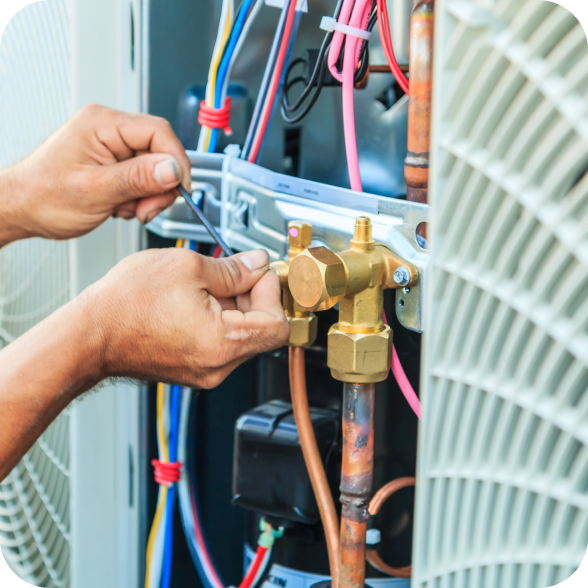 How To Tell If Your HVAC System Needs A Tune-Up
In Hot Springs, regular HVAC tune-ups are crucial to keeping your HVAC unit running efficiently and effectively. By identifying potential issues early on, you can avoid costly repairs or replacements in the future. HVAC systems that are not properly maintained can also become less efficient over time, leading to higher energy bills and decreased comfort levels in your home.
If you have not had an HVAC tune-up in over a year, or if you have noticed decreased performance from your system, it may be time to schedule a tune-up. By scheduling regular tune-ups with Dash, you can rest assured that your HVAC system is running efficiently and effectively, helping you to save money on your energy bills and avoiding costly repairs in the future.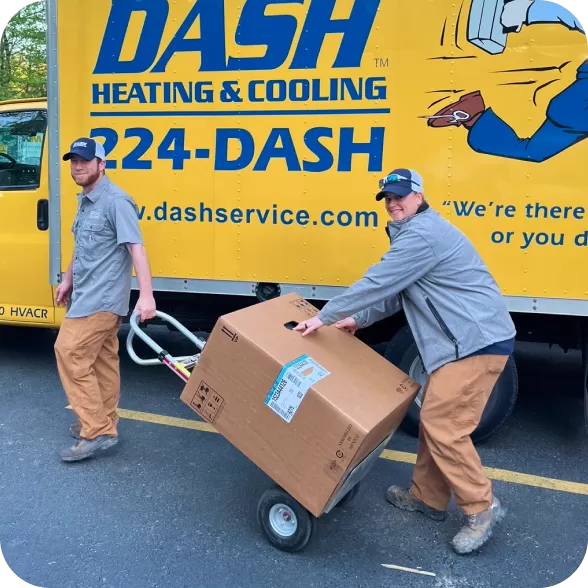 Residential HVAC Replacement In Hot Springs
If the HVAC system in your Hot Springs, AR, home has stopped working altogether, it may be time for a full system replacement. Replacing an HVAC system can be a major investment, but it can also provide significant long-term savings on energy bills and repair costs. Dash offers HVAC unit replacement services in Hot Springs and the surrounding areas, ensuring that you can keep your home comfortable and efficient.
A new HVAC system can also improve indoor air quality and reduce your carbon footprint by using less energy to heat or cool your home. Dash has experienced technicians who can guide you through the replacement process, from selecting the right system for your needs to installing it correctly and making sure it runs efficiently.
In Hot Springs, if your HVAC system needs to be replaced, contact Dash for an assessment. They can help you determine if a replacement is necessary and provide you with a detailed estimate of the costs involved. With their expertise and using high-quality equipment, the techs at Dash will help you ensure that your home stays comfortable and energy-efficient for years to come.
The Best Residential HVAC Contractors In Hot Springs
There are many HVAC contractors in the Hot Spring area, but choosing the right one for your needs can be a daunting task. When looking for an HVAC contractor, it's important to find a company with experience and a solid reputation. Dash is a trusted and reliable HVAC company serving the Hot Springs area for many years.
We employ a team of highly skilled and experienced HVAC technicians who are dedicated to providing excellent service to their customers. We offer a wide range of HVAC services, including repair, installation, replacement, and maintenance. We're also committed to using only the highest quality products and equipment, and our technicians are trained to work with all major brands and models of HVAC systems.
When it comes to choosing an HVAC contractor, it's important to look for a company that offers competitive pricing and flexible scheduling options. We offer upfront pricing and flexible scheduling options to meet the needs of our customers. We also provide emergency HVAC services 24/7 to ensure that new residential HVAC customers in Hot Springs are never without heat or air conditioning when they need it most.
In addition to our high-quality services, at Dash, we're also committed to providing excellent customer service. We strive to build lasting relationships with our customers by providing personalized attention and outstanding service. Whether you need a simple repair or a complete HVAC system replacement, DASH is the HVAC contractor you can trust to get the job done right.
Save Money With Regular HVAC Maintenance
Regular HVAC maintenance services can save you money in the long run. A well-maintained system is less likely to break down unexpectedly, which means you can avoid costly emergency repair fees. By scheduling regular maintenance, you can catch any potential issues early on and have them fixed before they turn into larger problems that require a full system replacement.
By investing in regular HVAC maintenance services, you can also ensure that your system is running efficiently, saving you money on your energy bills. A well-maintained system uses less energy to operate, which means your monthly bills will be lower, which can add up to significant savings over time. At DASH, we offer a Comfort Club membership, which makes regular heating and air conditioning maintenance convenient and easy!
All Of Our Cooling & Heating Services In Hot Springs
Customer Reviews
We now will always call and refer you to others when we need heating or air conditioning service. I'm sorry we had air conditioning trouble but glad to say we found your business due to that misfortune. We now will always call and refer you to others when we need heating or air conditioning service. Thanks so much for the great people.
Thelma Tucker
Our experience with DASH has been exceptional. Their technicians are always professional and courteous. Our experience with DASH has been exceptional. Their technicians are always professional and courteous. DASH has been servicing our home for more than ten years, with both new equipment and seasonal maintenance. We continue to enjoy a comfortable home.
Traci
I now appreciate the value of having the club membership. I am pleased with how quickly you responded to and repaired our air conditioning unit. I now appreciate the value of having the club membership.
Bruce Wilson
Our service areas
DASH Proudly provides service to Central Arkansas, Hot Springs, And Surrounding Areas homeowners. With a century of experience, you can count on our knowledge and expertise to get the job done right!
Other Cities We Serve
Arkadelphia, AR
Benton, AR
Cabot, AR
Haskell, AR
Hot Springs Village, AR
Mayflower, AR
Roland, AR
Scott, AR
Sherwood, AR
North Little Rock, AR