Our Promotions
FAQs for HVAC companies
Which HVAC services does Dash Heating & Cooling specialize in?
We deliver top-tier HVAC services tailored to Jacksonville's specific needs. Our experienced HVAC technicians handle various services ensuring comfort and energy efficiency, from routine check-ups to system optimizations.
How long can I expect my HVAC system to last?
A well-maintained HVAC system can last around 10 years. Regular HVAC maintenance, like the HVAC system tune-ups we offer, can extend its life. If you've had your HVAC for over a decade, call us and we can help you figure out the next steps.
How often should my system undergo maintenance?
It's best to schedule HVAC maintenance at least twice a year. Doing so ensures your system remains in shape, extending its life and maximizing energy efficiency.
Are energy-efficient HVAC options available?
As one of the best HVAC companies in the area, we offer a variety of energy-efficient commercial HVAC systems tailored to your needs to reduce energy consumption and cut down your energy bills for both commercial and residential spaces.
Can I pre-book regular HVAC system check-ups?
Yes, we encourage our customers to schedule their HVAC maintenance and HVAC system tune-ups in advance. By joining our Dash Comfort Club, you'll benefit from regular system check-ups, ensuring top performance all year round.
Do you offer emergency HVAC services?
We understand the importance of immediate action in emergencies. That's why we offer swift emergency HVAC service, and our True Transparency Pricing ensures you pay a fair price for what you get!
Any available government rebates for upgrading HVACs in Jacksonville, AR?
There are often local and federal rebates for upgrading to energy-efficient HVAC. We'd recommend checking Jacksonville's local government website, or contacting our team for the latest information on available incentives.
Are special deals or memberships on offer?
We frequently offer promotions for our valued customers. Moreover, our Dash Comfort Club offers exclusive benefits and deals, making it a favorite among Jacksonville folks.
No Credit Check Financing Option
No interest & no payments
for 60 months
Learn more
Priceless Peace Of Mind,
$15.95 A Month
Join the Dash Comfort Club and get all the perks of
membership:
Seasonal tune-ups.
Priority Scheduling.
100% satisfaction guaranteed.
Learn more
We're Your Local Home Service Experts
It's All Guaranteed
The Best Techs. The Friendliest Service.
For over 90 years, DASH has focused on customer satisfaction and exceptional service. We will do our best to continue with tradition to keep your best interest, and as always, we'll expect nothing short of 100% satisfaction, guaranteed.
Learn more about Us
Fast Response
Your calls are greeted by our in-house staff, who will schedule you for immediate service. Same-day service available for most emergencies so you never have to wait to get your problem under control.
Schedule Now
True Transparency Pricing
Most heating and air companies use industry-standard pricing, but DASH HEATING & COOLING® is different – that's why we offer DASH True Transparency Pricing. This new pricing structure provides you visibility into our costs of doing business, so you can continue to trust what you get from DASH.
Read more
Our Guarantees

All Techs Are Drug Tested & Undergo Background Checks

Our friendly team consists of highly-trained and respectful professionals, ensuring your home's safety and delivering exceptional service.

Pristine
Property Protection

We protect your home by wearing floor savers, using floor runners, and cleaning our work area.

NATE & EPA
Certification

Every DASH technician is up-to-date on their certifications. By doing so, they remain current with the safest and most effective industry practices.
Your trusted local HVAC services!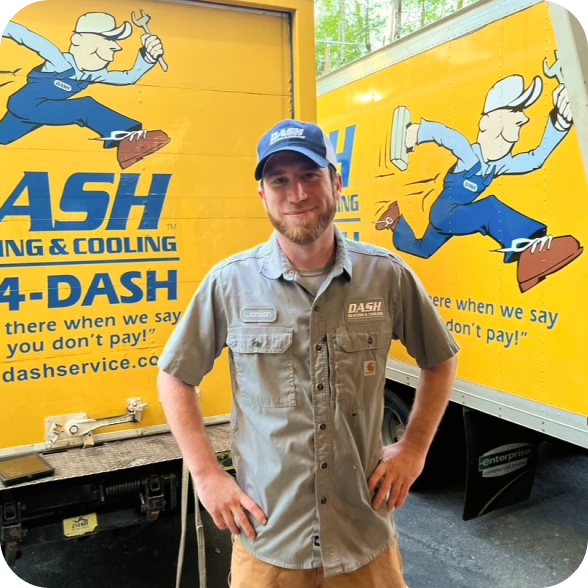 A dependable HVAC brings comfort to your commercial or residential space and it's essential for keeping those energy bills at bay and boosting energy efficiency.
We're proud to serve the good folks of Jacksonville with our range of HVAC services, like:
HVAC installation
HVAC replacement
HVAC maintenance
HVAC system tune-up
Emergency HVAC services
With Dash, you partner with the best HVAC company in the area, with dedicated HVAC contractors committed to dedicated service. Whether it's emergency HVAC needs or servicing commercial HVAC systems, we've got you covered!
We cater to your residential HVAC needs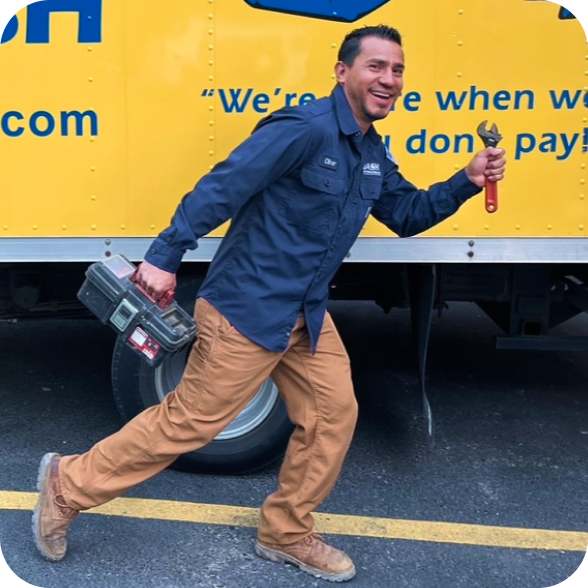 Homes have their unique quirks and comforts, and we're here to ensure everything works just right. At Dash, we're proud to cater to your individual needs.
From regular HVAC maintenance to an all-important HVAC tune-up, our HVAC technicians can optimize it according to your home's needs, and our Dash Comfort Club is a great way to keep your HVAC running smoothly.
We're the best HVAC contractors, dedicated to our community. Every now and then, we like to give a little back to our Jacksonville family, so make sure you check out our promotions!
Expert commercial HVAC solutions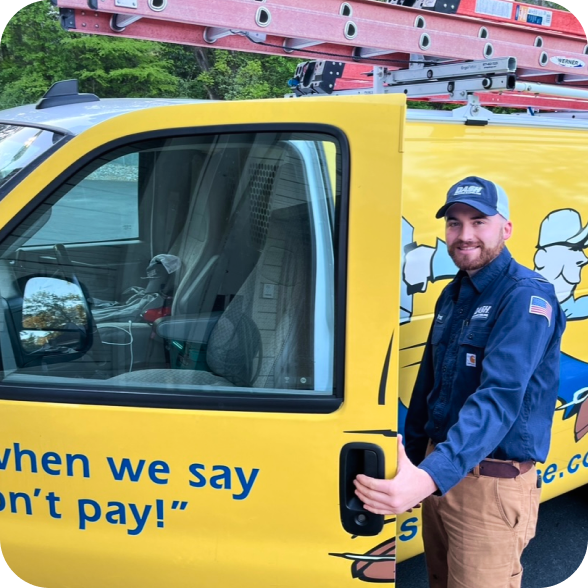 Commercial spaces aren't quite like your cozy living room, that's why we provide tailored HVAC services to the unique demands of commercial HVAC systems, ensuring bills are trimmed, and comfort is maximized.
Our HVAC technicians are your go-to experts for specialized commercial HVAC services, focusing on boosting energy efficiency, and ensuring your focus on growing your business and not on your HVAC malfunctions.
We know that, in business, clarity is key. Our True Transparency Pricing has no hidden costs, so you can plan according to your budget.
We are the best HVAC contractors, committed to making your enterprise thrive. Our HVAC technicians will tend to your commercial HVAC with a maintenance service or HVAC system tune-up. Give us a call and we'll come to you!
Reliable HVAC emergency services ready to assist you
We are your trusted local HVAC service provider, always on standby.
Our 24/7 HVAC emergency service swiftly responds to those pressing HVAC issues, ensuring you all stay comfortable and safe.
We've been around for over 91 years and we understand that value goes beyond just getting the job done. So, when you're in trouble and need a reliable expert, or simply want some professional advice from an expert HVAC technician, call us, our HVAC contractors are ready!
The best HVAC company in Jacksonville, guaranteed!
For almost a century, folks in Jacksonville have come to recognize us as one of the best HVAC contractors. Rooted deeply in Arkansas values, we've cemented our reputation as one of the best HVAC companies.
We've served with honesty and expertise for decades, ensuring your HVAC operates with precision. Our certified and skilled technicians are ready to tackle any HVAC emergency and we're committed to excellence and putting our customers first.
With our True Transparency Pricing, what you see is what you get! No hidden costs, and no surprise fees. We also offer exclusive club benefits and promotions to cater to a wide range of different budgets.
Considering who to choose among the best HVAC contractors? Remember we're not just an HVAC company; we're a tradition in Jacksonville, always ready to extend the life of your system and trim that energy bill.
Other Services in Jacksonville
Customer Reviews
We now will always call and refer you to others when we need heating or air conditioning service. I'm sorry we had air conditioning trouble but glad to say we found your business due to that misfortune. We now will always call and refer you to others when we need heating or air conditioning service. Thanks so much for the great people.
Thelma Tucker
Our experience with DASH has been exceptional. Their technicians are always professional and courteous. Our experience with DASH has been exceptional. Their technicians are always professional and courteous. DASH has been servicing our home for more than ten years, with both new equipment and seasonal maintenance. We continue to enjoy a comfortable home.
Traci
I now appreciate the value of having the club membership. I am pleased with how quickly you responded to and repaired our air conditioning unit. I now appreciate the value of having the club membership.
Bruce Wilson
Our service areas
DASH Proudly provides service to Central Arkansas, Hot Springs, And Surrounding Areas homeowners. With a century of experience, you can count on our knowledge and expertise to get the job done right!
Other Cities We Serve
Arkadelphia, AR
Benton, AR
Cabot, AR
Haskell, AR
Hot Springs Village, AR
Mayflower, AR
Roland, AR
Scott, AR
Sherwood, AR
North Little Rock, AR