Promotions & Specials
What you need to know about AC repair
Why isn't my air conditioner cooling?
If your air conditioner in Conway isn't cooling, several factors might be at play. Check if the thermostat is set correctly and if the air filter is clean. Low refrigerant levels or a malfunctioning compressor could also be causing the issue.
Sometimes, electrical problems or blocked airflow due to debris can hinder cooling. If troubleshooting doesn't help, it's time to call for professional assistance. Dash specializes in AC unit repair and can diagnose and fix the underlying problems, ensuring your comfort is restored promptly and efficiently. We provide 24-hour AC repair for your convenience.
What are the signs that I need AC unit repair?
Recognizing signs that you need AC unit repair can prevent further issues. If your Conway air conditioner is blowing warm air, experiencing frequent cycling, or producing unusual noises, it might be in trouble. Reduced airflow, foul odors, or sudden increases in energy bills are also indicators.
Don't ignore leaks, humidity issues, or if your system is nearing or past a decade old. These signs suggest it's time for professional AC repair and maintenance. Dash can diagnose and solve AC problems efficiently, ensuring your system works optimally and keeps your home comfortable.
What factors should I take into account when choosing an AC repair company?
When selecting a residential or commercial AC repair company in Conway, opt for professionals with proven experience in AC repair and maintenance. Prompt response is also essential; choose a company offering swift emergency AC repair, ensuring your comfort year-round.
Reliability matters – choose a service provider known for trustworthy solutions and effective repairs. Customer satisfaction is a testament to quality; look for positive reviews and a solid reputation. Luckily for you, Dash excels in all these aspects, delivering expert AC unit repair solutions promptly, earning trust through reliable service and customer contentment.
What can I expect when I call Dash for emergency AC repair?
When you reach out to Dash for emergency AC repair in Conway, expect a swift and efficient response. Our experienced technicians prioritize your comfort and safety. We'll promptly assess your AC unit's issue and provide expert diagnosis. You'll receive a clear explanation of the problem and the recommended solutions.
Our commitment to transparent pricing means no hidden fees. With DASH, you get reliable, effective AC unit repairs backed by years of experience. We understand the urgency of an AC breakdown, and we're here to restore your comfort as quickly as possible.
Can I repair my air conditioner myself?
While basic maintenance like cleaning or changing filters can be done by homeowners, AC unit repair is best left to professionals. Attempting DIY fixes can lead to further damage, void warranties, and risk safety hazards.
Without proper expertise, you might misdiagnose the issue or apply incorrect fixes. For reliable AC unit repair and your safety, it's advisable to rely on experienced technicians. Dash in Conway offers skilled professionals to ensure the best AC repair, keeping your comfort and well-being in mind.
No Credit Check Financing Option
No interest & no payments
for 60 months
Learn more
Priceless Peace Of Mind,
$15.95 A Month
Join the Dash Comfort Club and get all the perks of
membership:
Seasonal tune-ups.
Priority Scheduling.
100% satisfaction guaranteed.
Learn more
We're Your Local Home Service Experts
It's All Guaranteed
The Best Techs. The Friendliest Service.
For over 90 years, DASH has focused on customer satisfaction and exceptional service. We will do our best to continue with tradition to keep your best interest, and as always, we'll expect nothing short of 100% satisfaction, guaranteed.
Learn more about Us
Fast Response
Your calls are greeted by our in-house staff, who will schedule you for immediate service. Same-day service available for most emergencies so you never have to wait to get your problem under control.
Schedule Now
True Transparency Pricing
Most heating and air companies use industry-standard pricing, but DASH HEATING & COOLING® is different – that's why we offer DASH True Transparency Pricing. This new pricing structure provides you visibility into our costs of doing business, so you can continue to trust what you get from DASH.
Read more
Our Guarantees

All Techs Are Drug Tested & Undergo Background Checks

Our friendly team consists of highly-trained and respectful professionals, ensuring your home's safety and delivering exceptional service.

Pristine
Property Protection

We protect your home by wearing floor savers, using floor runners, and cleaning our work area.

NATE & EPA
Certification

Every DASH technician is up-to-date on their certifications. By doing so, they remain current with the safest and most effective industry practices.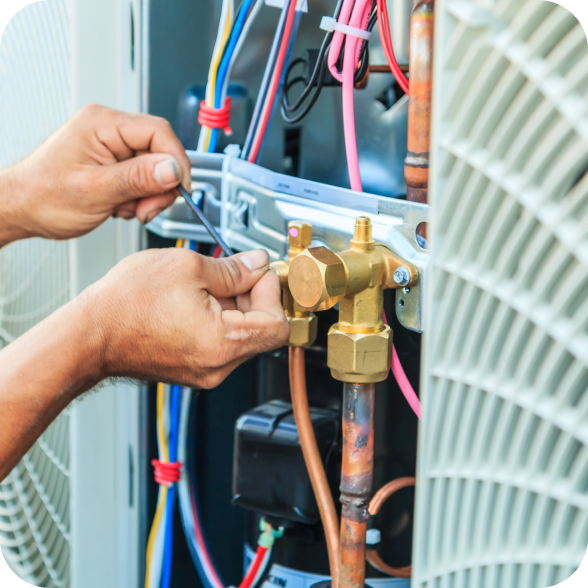 Conway's best AC repair solutions
A properly functioning air conditioning system is essential for your comfort, especially during sweltering summers. Dash Heating & Cooling recognizes this importance and is committed to delivering the best AC repair and maintenance solutions in Conway.
Our skilled professionals possess the expertise to swiftly diagnose and address various AC service and repair issues, ensuring your system operates optimally. With over 90 years of excellence, Dash has become the trusted choice for AC unit repair in the community.
From residential homes to commercial AC repair, and 24-hour AC repair services, Dash caters to all your needs. We understand the significance of a comfortable environment, and our efficient, courteous, and reliable service ensures your cooling system is in good hands.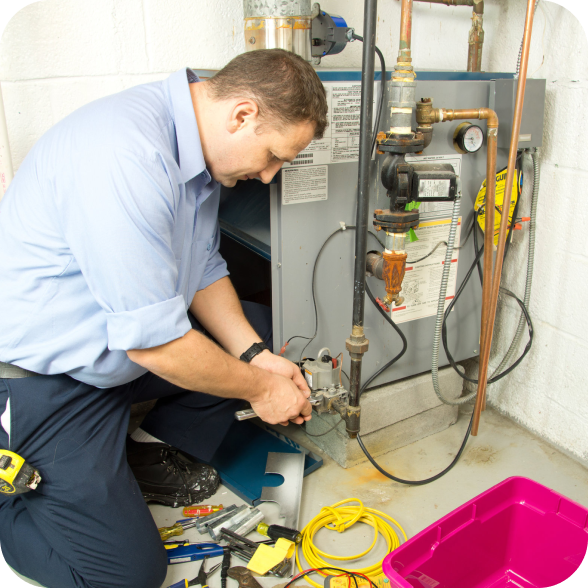 We are your trusted AC unit repair service
When your air conditioning system falters, turn to Dash Heating & Cooling, the best AC repair company for professional AC service and repair. With a strong legacy of over 90 years, our commitment to excellence shines through in every satisfied customer.
Our skilled technicians possess the expertise to accurately diagnose and effectively address a wide range of residential and commercial AC repair and maintenance. Whether it's a minor glitch or a major malfunction, we have the know-how to bring your cooling system back to its optimal performance.
Dash takes pride in restoring efficient cooling system functionality, ensuring your comfort is never compromised. Our dedication to quality service, combined with years of experience, makes us the best AC repair company in Conway.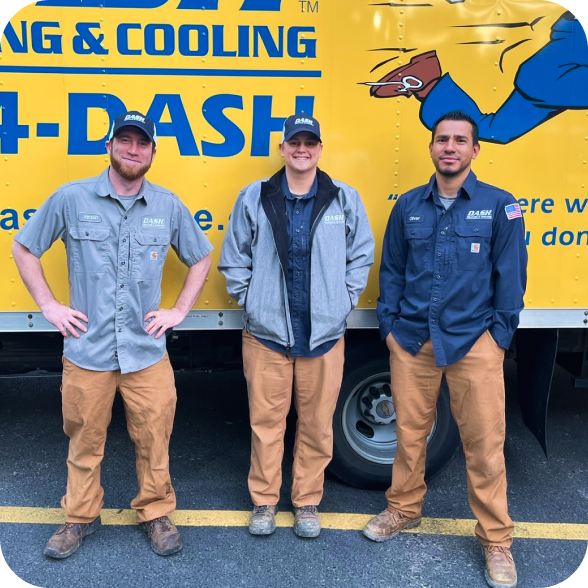 Swift and effective 24-hour emergency AC repair
When your AC system unexpectedly malfunctions, Dash is here to provide swift and reliable solutions through our 24-hour emergency AC repair services in Conway. We understand the discomfort a breakdown can bring, especially during scorching summers.
Our commitment to our customers' comfort extends around the clock. Dash's 24-hour AC repair service prioritizes emergency calls, ensuring that a skilled technician arrives promptly to assess and address the issue. Our rapid response aims to restore your comfort swiftly, whether it's day or night.
Count on Dash's emergency AC repair to be your lifeline during critical breakdowns. We're dedicated to bringing back cool, comfortable living conditions to your home when you need it the most.
Efficient AC service, repair, and troubleshooting
At Dash Heating & Cooling, we understand the urgency of a malfunctioning AC system. Our commitment is to promptly address your residential and commercial AC repair and maintenance issues, providing effective solutions to restore your comfort.
Our approach to AC unit repair revolves around efficient diagnosis and reliable troubleshooting. Our skilled technicians utilize their expertise to pinpoint issues accurately, saving you time and money.
We recognize that a malfunctioning AC can disrupt your daily routine. Our 24-hour AC repair company's goal is to minimize downtime by swiftly restoring your cooling system's functionality. Count on Dash for dependable AC service and repair in Conway that brings your comfort back without unnecessary delays.
Why choose Dash for your AC repair and maintenance needs?
When it comes to AC unit repair in Conway, Dash stands out as your reliable choice. Here's why:
Expert technicians: Our skilled professionals bring years of experience to the table, ensuring accurate diagnosis and effective repairs for your AC issues.
Prompt response: We know the urgency of AC problems, offering swift 24-hour AC repair services for emergencies. Count on us to be there when you need us the most.
Reliable solutions: We provide trustworthy, high-quality residential and commercial AC repair and maintenance services, ensuring long-lasting solutions that keep your system functioning optimally.
Customer satisfaction: Our track record of positive testimonials showcases our dedication to exceeding customer expectations in AC service and repair.
Choose Dash for all your AC unit repair needs in Conway, and experience professionalism, efficiency, and reliable solutions!
Customer Reviews
We now will always call and refer you to others when we need heating or air conditioning service. I'm sorry we had air conditioning trouble but glad to say we found your business due to that misfortune. We now will always call and refer you to others when we need heating or air conditioning service. Thanks so much for the great people.
Thelma Tucker
Our experience with DASH has been exceptional. Their technicians are always professional and courteous. Our experience with DASH has been exceptional. Their technicians are always professional and courteous. DASH has been servicing our home for more than ten years, with both new equipment and seasonal maintenance. We continue to enjoy a comfortable home.
Traci
I now appreciate the value of having the club membership. I am pleased with how quickly you responded to and repaired our air conditioning unit. I now appreciate the value of having the club membership.
Bruce Wilson
Our service areas
DASH Proudly provides service to Central Arkansas, Hot Springs, And Surrounding Areas homeowners. With a century of experience, you can count on our knowledge and expertise to get the job done right!
Other Cities We Serve
Arkadelphia, AR
Benton, AR
Cabot, AR
Haskell, AR
Hot Springs Village, AR
Mayflower, AR
Roland, AR
Scott, AR
Sherwood, AR
North Little Rock, AR