Our Promotions
HVAC Repair In Little Rock FAQs
What is an HVAC system, and how does it work?
HVAC stands for heating, ventilation, and air conditioning. Generally, HVAC units have three main components: a heating unit, a cooling unit, and a duct that moves the air. Put simply, an HVAC system takes in air, cools or heats it, and then blows it into an indoor space.
There are various types of HVAC systems and services available on the market today, and if you're looking for heating and air conditioning services in Little Rock, AR, the options are certainly vast. Our experienced contractors are fully licensed for HVAC repair in Little Rock and can help you determine the best choices to meet your needs.
Proper heat and air quality are important factors when it comes to the comfort of indoor spaces. If you're looking for professionals who specialize in residential HVAC services in Little Rock, call Dash Heating and Cooling today.
How Do I Know If I Need an Emergency HVAC Repair in Little Rock?
Emergency repairs can be quickly addressed if you know what to look for. If you notice any of the following signs and symptoms with your home's unit, contact us right away for 24/7 emergency service.
Your Unit Has Accumulated Ice
Air Conditioner is Blowing Warm Air
Unusual Smells or Sounds
High Indoor Humidity
Steam or Pooled Water Around the Boiler
Your Unit is Emitting Sparks or Smoke
Critical HVAC issues such as these may present serious threats. If in doubt, contact Dash immediately for emergency HVAC repair in Little Rock.
Did My Electricity Bill Go Up Because of an Issue With My HVAC Unit?
Higher spikes in bills are normal during peak summer or winter months, but if your utility bill has suddenly skyrocketed, it may be due to a problem with your unit.
If your HVAC system goes without regular maintenance, you may experience cooling problems, drainage or thermostat issues, dirty filters, or more. If you haven't had your unit inspected by an HVAC professional within the last 6 months, we recommend scheduling an inspection immediately.
With Dash, heating and cooling services in Little Rock are just a phone call away. Save money by planning ahead. For 24 hour HVAC services in Little Rock, contact us at any time.
How Long Does it Take to Install a New Heating and Cooling Unit?
In order to estimate exactly how long it may take to install a new HVAC unit, several factors should be considered. Are you planning to simply replace the old unit with a new one or to completely install a new system altogether? All things considered, it could take anywhere from 1–6 days to complete the job.
If you are replacing the old unit with a new one, the ductwork on the old system should seamlessly work for the new system, which is a huge time saver. These types of installations typically take 1-2 days. However, if a brand new unit is to be installed, it could take up to 3–6 days. This is because new ductwork and ventilation will have to be installed, as well as potential electrical wiring and connections.
For a clearer estimate, connect with us today! For over 91 years, we've been offering a full range of quick, friendly, and professional heating and cooling services to Little Rock customers.
How Much Do HVAC Services In Little Rock Cost?
We are pleased to provide DASH True Transparency Pricing. That means we don't charge any hidden fees or markups, and you only pay what we pay! On average, 85% of all repairs performed by us cost just around $205. Ain't that a fact!
We also offer special financing options, exclusive rebates for larger purchases, and a 2-47 membership package that's full of money-saving perks. What a treat!
At Dash, we aim to keep our heating and cooling repairs in Little Rock not only dependable but also affordable. If you're looking for trustworthy HVAC repair in Little Rock that won't hurt your wallet, you've found it.
No Credit Check Financing Option
No interest & no payments
for 60 months
Learn more
Priceless Peace Of Mind,
$15.95 A Month
Join the Dash Comfort Club and get all the perks of
membership:
Seasonal tune-ups.
Priority Scheduling.
100% satisfaction guaranteed.
Learn more
We're Your Local Home Service Experts

It's All Guaranteed
The Best Techs. The Friendliest Service.
For over 90 years, DASH has focused on customer satisfaction and exceptional service. We will do our best to continue with tradition to keep your best interest, and as always, we'll expect nothing short of 100% satisfaction, guaranteed.
Learn more about Us

Fast Response
Your calls are greeted by our in-house staff, who will schedule you for immediate service. Same-day service available for most emergencies so you never have to wait to get your problem under control.
Schedule Now

True Transparency Pricing
Most heating and air companies use industry-standard pricing, but DASH HEATING & COOLING® is different – that's why we offer DASH True Transparency Pricing. This new pricing structure provides you visibility into our costs of doing business, so you can continue to trust what you get from DASH.
Read more
Our Guarantees

All Techs Are Drug Tested & Undergo Background Checks

Our friendly team consists of highly-trained and respectful professionals, ensuring your home's safety and delivering exceptional service.

Pristine
Property Protection

We protect your home by wearing floor savers, using floor runners, and cleaning our work area.

NATE & EPA
Certification

Every DASH technician is up-to-date on their certifications. By doing so, they remain current with the safest and most effective industry practices.
Top HVAC Service Choice For Heating And Air Conditioning Repairs In Little Rock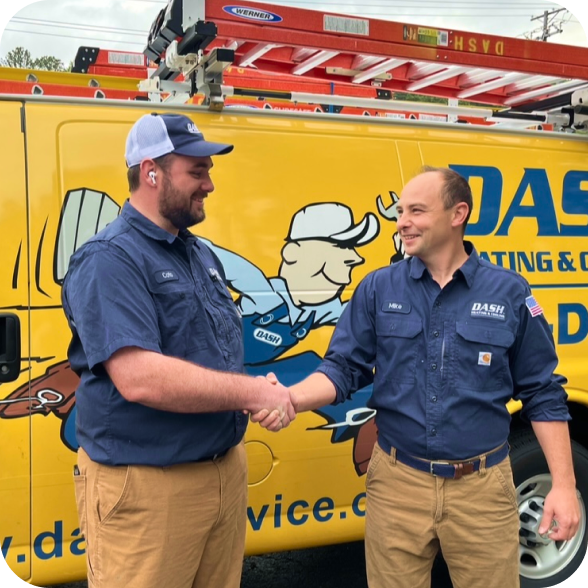 What To Expect
When you schedule Dash Heating and Cooling for your HVAC repair service in Little Rock, AR, you can bet that we'll provide the most professional and punctual service available. You don't pay a dime if we aren't on time! That's right, if we don't show up within 2 hours of your scheduled service, it's free of charge.
Furthermore, our expert Little Rock HVAC repair contractors will share their knowledge and make the best recommendations to ensure your heating and cooling system performs optimally all year. We'll take the time to answer any questions you may have, and once we've finished the job, we guarantee 100% customer satisfaction.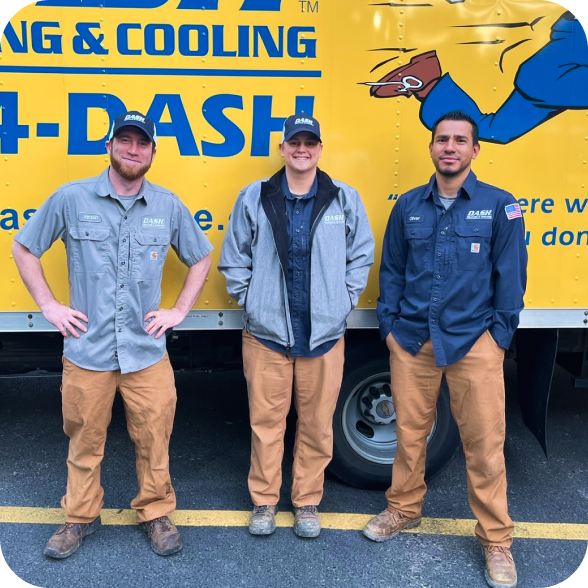 Arkansas' One-Stop-Shop For All Things HVAC Repair
At Dash, we take pride in our extensive list of services because the more we can offer our customers, the happier they are. We know that you can't always plan around your heating and cooling service needs. That's why we offer 24-hour HVAC repair service for our Little Rock customers. Whether you need commercial or residential HVAC service, Dash will always be here to provide you with 24/7 emergency service anywhere in the Little Rock surrounding area.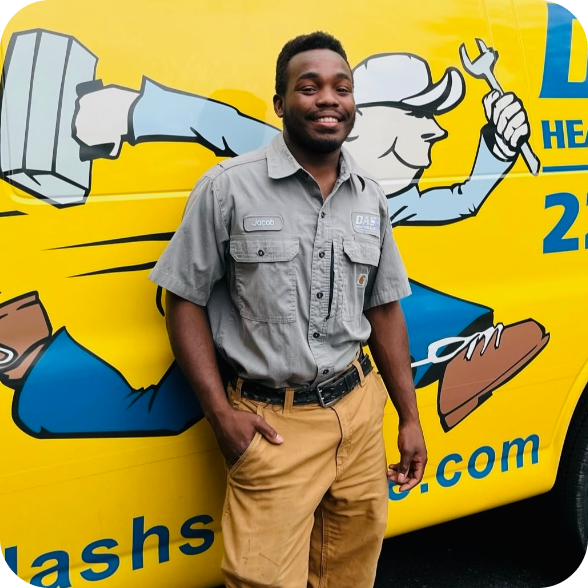 Emergency HVAC Service For Little Rock
As a member of this Little Rock community, we at Dash care about our customers, so we want to be there when you need us most. If you're in an emergency and need 24-hour HVAC repair, our Little Rock team is standing by to help!
Little Rock's Trusted And Reputable HVAC Service
Dash Heating & Cooling has been locally owned and operated out of Little Rock, Arkansas, for over 90 years. We're a family-run business, and we love being given the opportunity to show our customers what makes our HVAC service worthwhile.
All of our HVAC repair technicians receive extensive training and are certified in their field of expertise. They arrive at each job with a smile on their face and won't finish their work unless there's a smile on yours!
At Dash, our aim is to provide the best customer service we can. We've received hundreds of 5-star ratings for our exceptional services, and we expect to receive many more. If you're looking for the most trusted name in HVAC service in Little Rock, you've found it.
Customer Reviews
We now will always call and refer you to others when we need heating or air conditioning service. I'm sorry we had air conditioning trouble but glad to say we found your business due to that misfortune. We now will always call and refer you to others when we need heating or air conditioning service. Thanks so much for the great people.
Thelma Tucker
Our experience with DASH has been exceptional. Their technicians are always professional and courteous. Our experience with DASH has been exceptional. Their technicians are always professional and courteous. DASH has been servicing our home for more than ten years, with both new equipment and seasonal maintenance. We continue to enjoy a comfortable home.
Traci
I now appreciate the value of having the club membership. I am pleased with how quickly you responded to and repaired our air conditioning unit. I now appreciate the value of having the club membership.
Bruce Wilson
Our service areas
DASH Proudly provides service to Central Arkansas, Hot Springs, And Surrounding Areas homeowners. With a century of experience, you can count on our knowledge and expertise to get the job done right!
Other Cities We Serve
Arkadelphia, AR
Benton, AR
Cabot, AR
Haskell, AR
Hot Springs Village, AR
Mayflower, AR
Roland, AR
Scott, AR
Sherwood, AR
North Little Rock, AR